Having recently completed our first major order of fire doors, increasing interest surrounding the supply and installation of modern commercial fire doors has inspired us to put together a range of frequently asked questions below.
If you require further assistance, please don't hesitate to contact the Shelforce team and we'll do all we can to answer your questions and accommodate your needs.
What is defined as commercial property?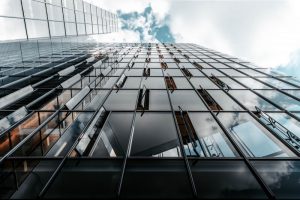 Commercial property is specified as any property which is not used as a domestic dwelling.
What are commercial fire doors designed to do?
Form a barrier to delay and stop the spread of fire
Provide a safe means of escape
Which fire regulations apply to new commercial buildings?
Approved Document B (Fire safety) – Volume 2: Buildings other than dwellings (2019 edition) applies to new buildings, or those subject to significant alterations, extensions, or changes of use.
Which fire regulations apply to existing commercial buildings?
The Regulatory Reform (Fire Safety) Order 2005 (RRO or FSO) applies to existing commercial buildings.
A short guide to making your premises safe from fire
Which doors should be fire doors in commercial settings?
Any door that opens onto an escape route, or operating across an escape route, should be fitted with a compliant fire door that provides at least 30 minutes of fire protection (FD30).
Where are FD60 doors required?
Currently, fire doors required for a compartment wall that separates two buildings should provide sixty minutes of fire protection (FD60). Of course, it depends on the size and capacity of the building, as well as its use. An in-depth fire risk assessment will establish locations where fire doors are required and the necessary fire ratings.
The Fireshel composite fire door utilises the FireFrame® dual fire, smoke, and security compliant fire door set solution from Winkhaus, which includes the FD30 / FD60 FireFrame® outerframe, and the Winkhaus AV2 auto-locking multi-point door lock with optional access control for absolute peace of mind.
Are your fire doors fit for purpose?
Can anyone install commercial fire doors?

Currently, there is no single recognised standard for commercial fire door installers in the UK, which can make it difficult to gauge an installer's competence when it comes to effective fire door installation. It's always advisable to talk to fire door installers beforehand to find out whether they have had any specific training on fitting commercial fire doors and see who provides the most satisfactory response, and look out for the following trust signals:
The door being installed is a British Standard compliant door
The door has at least three hinges
A door closer is included if required
Ironmongery components are CE marked
There is no damage to the door, by cutting into it, etc.
Do I really need fire doors in my business?
All commercial buildings are required by law to have a 'responsible person' in place to ensure the premises and the people within it are safe by making sure all current standards are adhered to. Those that fail to follow commercial fire safety regulations could be fined or be prosecuted for non-compliance. Minor penalties can be anything up to £5,000. Major penalties can have unlimited fines and up to 2 years in prison.
Related topics that may be of interest:
The Midlands chosen supplier of choice for commercial windows and doors
Why big businesses trust in our window & door products above others
Trade windows and doors manufacturers continue to thrive