Do your doors meet fire door regulations?
Following the one-year anniversary of the tragic Grenfell fire that horrifically destroyed the North Kensington tower block, local authorities, housing associations and landlords across Britain could face huge maintenance bills to upgrade inadequate and poorly fitted external and internal fire doors, with an estimated 1 million fire doors in need of replacement. Although the majority of media attention has been focused on the external flammable cladding used in the refurbishment of Grenfell Tower, the recent Grenfell Inquiry shockingly revealed that over 100 fire doors failed to meet building regulations. This would, of course, play an integral part in the spread of the fire, considering these particular 'fire doors' could only resist fire for a period of just 15 minutes. With this in mind, we wondered if you're completely confident that your fire doors are fit for purpose?
How can I tell if it's an official fire door?
Look for labels or similar markings that show the door is certificated, bearing in mind the way the fire door has been fitted will play an integral role in its overall efficiency too. If you're still unsure, then a qualified FDIS Certified Inspector will be able to help you out. The following 5 step fire door check is particularly handy for providers and residents who're unsure if their fire doors are fit for purpose:
When are fire doors required?
Whether it's a commercial or residential property, all building owners have a legal duty to comply with fire safety in England and Wales. Considering the vast range of property uses out there, it's advisable to start with a comprehensive site survey carried out by a qualified fire risk assessor who will address potential fire hazards and provide proactive remedies to these. It's also important to be aware that different buildings will require different types of fire door. For example, HMO Landlords (Houses in Multiple Occupation) must install half-hour protective fire doors (the FD30 fire door) on all habitable rooms leading to a stairwell, complete with closers and intumescent strip seals.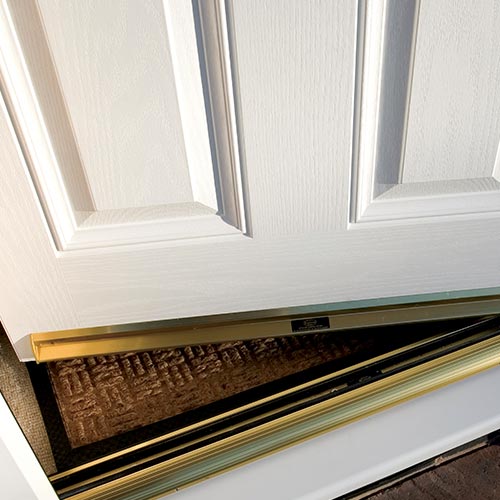 What is the difference between a fire door and a normal door?
Fire doors are classed as passive fire protection measures, meaning that their specific design acts as a barrier to slow down the spread of flames and smoke to other rooms. They also provide a safe route of escape in the case of an emergency.  To be classed as a fire door, the door must be manufactured and designed to meet building regulations and provide a certain amount of protection.
What does 30 minute fire door mean?
A 30-minute fire door means it provides 30 minutes of protection against fire and smoke. Fire doors are rated by how long they can withstand flames and smoke, where the most commonly specified integrity levels range from 30 (FD30), 60 (FD60), 90 (FD90) and 120 (FD120) minutes' worth of fire protection. So, our FD30 fire door is a 30-minute fire door.
Residential and commercial FD30 Fire Door
FD30 is the most common rating applied to fire doors. Around 44mm thick, the FD30 fire door is around 10cm thicker than the average door, providing a deeper barrier to spreading fire and smoke. Our FD30 fire door is suitable for both residential and commercial installations. Even though our FD30 fire door has been tested to meet rigorous building regulations, it is still stylish and can complement the style of any home or building.
How are fire doors fitted?
Adequate fire doors truly mean the difference between life and death, that's why we pay exceptional care to how we fit our fire doors in Birmingham and the surrounding West Midlands area. Please watch the following video, demonstrating why specification and correct installation are essential to the performance of a fire door – in full support of Fire Door Safety Week, 24th September – 30th September 2018.
Do you need to be qualified to fit fire doors?
Currently, there is no single recognised standard for fire door installers in Britain, which can make it difficult to gauge an installer's competence when it comes to effective fire door installation. It's always advisable to talk to fire door installers beforehand to find out whether they have had any specific training on fitting fire doors and see who provides the most satisfactory response. Be sure to look out for the following:
The door being installed is a British Standard compliant door
The door has at least three hinges
A closer is included if required (contact us for further clarification)
Ironmongery components are CE marked
There is no damage to the door, by cutting into it, etc.
Fabricating and installing high-performance fire doors, peace of mind comes naturally with residential fire doors and light commercial fire doors from the Shelforce team.
External and internal trade fire door suppliers in the West Midlands
Choose the attractive FD30 door from Shelforce – effectively providing superior fire resistance, perfect for both residential and commercial properties across the West Midlands and beyond.