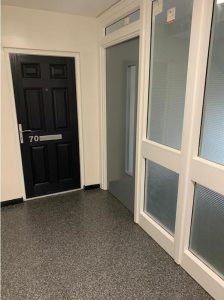 Shelforce has completed the supply and installation of 210 fire doors for a project in Birmingham.
Having launched its new Fireshel 30-minute fire-resistant door last year, the first major order was 210 of the doors for three blocks of flats. Following the success of this project, Wates have ordered a further 72 doors for installation in a sheltered Housing scheme on Belgrave Middleway in Birmingham.
Shelforce worked closely with construction giant Wates on the flats – Home Meadow House, Hollypiece House and Coppice House – in Acocks Green, Birmingham and support retirement and sheltered housing.
Wates, one of the UKs leading providers of planned and responsive maintenance services in the social housing sector, have partnered on several projects with Shelforce for the last five years, including the 11 million revamp of a 20-storey tower block in Aston, Birmingham, to help homeless families and the transformation of a retirement housing high rise in the city.
And the service Shelforce, 75% of whose workforce is disabled, provided from start to finish was exemplary once again.
Life-saving fire doors tailored to Birmingham sheltered housing scheme
Daniel Camp, Operations Manager of Wates, explained: "Shelforce delivered once again for us on the Pemberley Road project and they have huge experience when it comes to delivering Local Authority projects. We are continuing the support with orders set for the next three 3 years as we roll out a wider flat entrance door replacement programme.
"Diversity and inclusion is also huge for Wates family and Shelforce's approach and commitment to delivering real change for people and communities are values that line up with our own. We're looking forward to continuing to work with Shelforce in the future."
The Fireshel is the perfect solution for local authorities who need fully EN tested 3rd Party Accredited, replacement Fire Door sets, that are compliant with the latest 2020 MHCLG Annex A recommendations.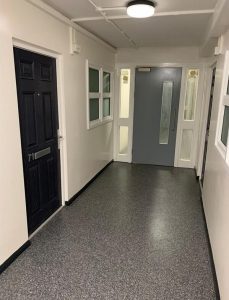 All Fireshel fire doors have been fire and smoke tested from both the inside and outside and PAS 024 Security tested. The door set complete with fanlight glazing panel achieved 49 minutes fire resistance when EN1634-1 tested allowing peace of mind when specifying a Fire Door solution for any local authority or housing association replacement project.
Shelforce's Business Manager, Howard Trotter, said: "We have a valued partnership with Wates, and the Pemberley Road project is a great example of what we can do here at Shelforce.
"The Fireshel system has been designed and tested to meet the highest standards to ensure that it exceeds current safety regulations.
"We offer a comprehensive fire door package with our system, ranging from fabrication through to installation, maintenance, and repair – making things as easy as possible for Local Authorities, and saving them money."
From high rises and new builds to schools and colleges, Shelforce has experience with all types of social housing refurbishment and maintenance and has developed a first-class reputation for providing Local Authorities with the highest quality windows and doors on time and within budget.
To find out more about how a partnership with Shelforce would boost your local authority building project, call Shelforce on 0121 603 5262 or visit www.shelforce.com.