Almost 4 years on from the Grenfell tragedy, as the true cost of cladding remediation works suggests works could hit £50bn, the spotlight has (quite rightly) refocused its gaze on fire safety concerns within high-rise residential buildings across Britain.
As COVID restrictions gradually begin to lift, all sectors of the construction industry are getting back to business and doing what they do best. Coupled with the latest radical new climate change commitments that aim to set the UK on course to cut carbon emissions by 80% by 2035, considering heating and powering buildings makes up 40% of the UK's total energy usage, improving energy efficiency in older residential buildings and commercial premises definitely has a part to play in reducing CO2 emissions. A recent report published by Historic England also reveals carefully retrofitting historic homes could save up to 84% in carbon emissions.
Other than increasing insulation, draught-proofing, installing good quality double glazed windows and doors, and upgrading appliances and lighting, high-performance fire doors also play their part in saving energy and reducing a building's carbon footprint.
What is the British Standard for fire doors?
Current Building Regulations, via Fire safety: Approved Document B, require fire doors to be tested and certified to BS 476 Part 22 or BS EN 1634 Part 1 (the European equivalent).
What is BS 476?
Split into many different parts, part 22 of British Standard 476 tests the entire fire door unit to make sure all the components function and cooperate correctly. The BS 476 test grades the level of fire resistance the door can withstand, e.g. 30 minutes (FD30) or 60 minutes (FD60).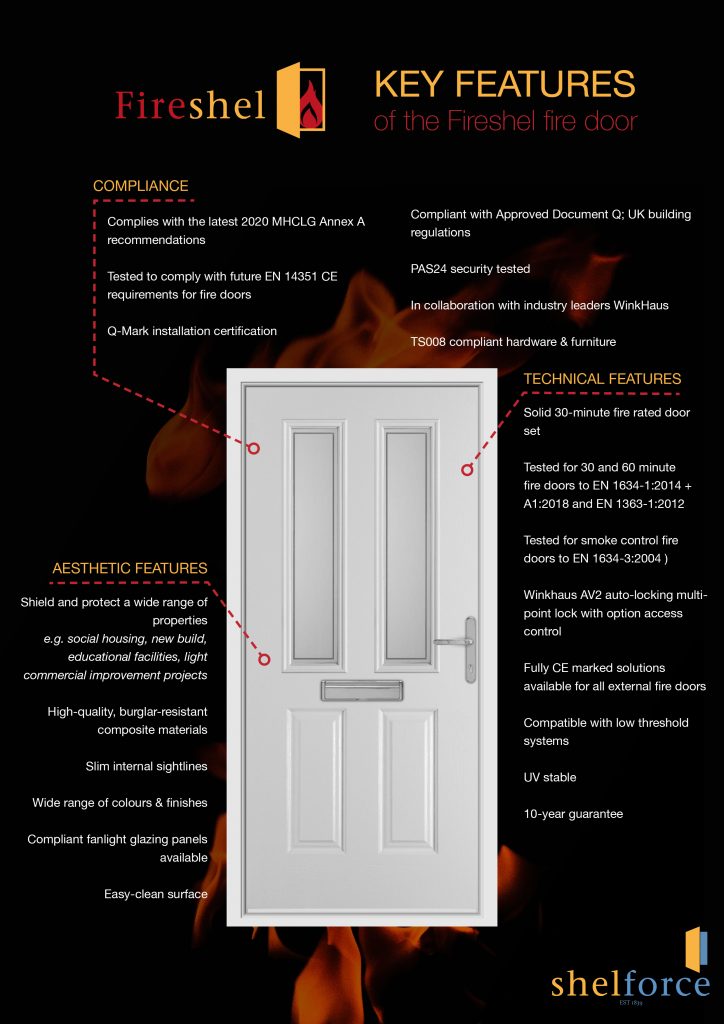 What is EN 1634?
EN 1634 is a European Standard that tests fire doorsets for fire resistance and smoke leakage.
FD30 or FD60 fire doors?…
Fire doors must provide a minimum of 30 minutes fire resistance, as 'Fire Resisting Door 20 minutes' (FD20) is no longer available. In most cases FD30 fire doors will suit, however it all depends on the size and capacity of the building. For example, a large office building with hundreds of people inside would benefit from FD60 fire doors to allow enough time for everyone to evacuate the building. Other common fire door integrity specifications include FD90 and FD120.
All Fireshel fire doors have been fire and smoke tested from both the inside and outside, as well as PAS 24 Security tested. The doorset complete with fanlight glazing panel achieved 49 minutes fire resistance when EN 1634-1 tested, allowing peace of mind when specifying a fire door solution for any local authority, housing association or light commercial replacement project.
Fire door safety standards for local authorities & housing associations
Social landlords and housing associations have a responsibility under the Regulatory Reform (Fire Safety) Order 2005 (FSO) to ensure their domestic properties and tenants are safe.
Usually required to be self-closing, fire doors are legally required for flats that open onto communal areas shared with other tenants. In domestic dwellings above two levels where the door leads to a habitable room, every door leading to the stairwell (at all levels) must be a fire door. They're also required in loft conversions, to connect houses with an integral garage and between business and residential elements in mixed-use buildings.
All non-domestic buildings are subject to the Regulatory Reform (Fire Safety) Order: 2005 (RRO), which is much more in-depth and far-reaching. Don't hesitate to contact one of our experts, who will be happy to discuss your non-domestic fire door needs further.
Raising awareness of the critical role of fire doors is crucial
Ahead of last year's Fire Door Safety Week, Shelforce business manager Howard Trotter spoke out about the need to make sure a fire door performs as intended.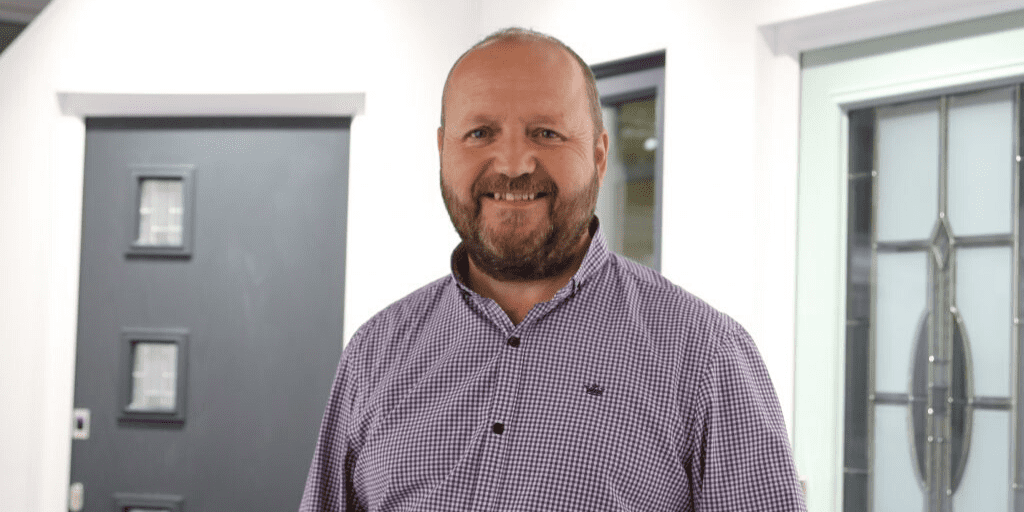 "The last few years have brought a much-needed wake-up call on fire safety, not just for the fenestration industry, but for the construction industry and society more generally. And rightly so – as they can be the difference between life and death," said Howard.
"Fire doors are not ordinary doors; they are a carefully engineered fire safety device and are critical to the fire safety of a building.
"Product manufacture, quality, installation, and maintenance are all life critical. After all, everyone plays their part in ensuring a fire door performs as it should."
Howard added: "Raising awareness and encouraging building owners and users to check the operation and condition of their fire doors is vital, which is why Fire Door Safety Week is so important."
Solid FD30 fire doors designed for modern social housing, new build, educational & light commercial improvement projects
Last year, we launched our new fully compliant Fireshel 30-minute fire, smoke, and burglar resistant door. Proudly delivering our very first fire door refurbishment project earlier this year, we completed the supply and installation of 210 high-quality fire doors tailored to a sheltered housing scheme in Birmingham.
Working with a variety of residential, commercial, and trade clients, contact us today to learn more about our comprehensive Fireshel fire door package, ranging from fabrication through to installation, maintenance and repairs.
Related topics:
Are your fire doors fit for purpose?
Front doors – something the council should review post-Grenfell?
What's the egress window requirements for social housing in England?