Despite the unprecedented disruption caused by COVID-19, Britain's construction sector has experienced the sharpest rate of output growth since 2014. Along with a surge in housebuilding, the latest snapshot of the construction sector looks positive, with commercial projects and infrastructure work all experiencing strong growth.
Current forecasts expect the UK construction industry to rebound and grow by 8% in 2021, with an average growth of 2.5% between 2022 and 2025. It's also interesting to note that 23% of window and door installers in the UK have switched fabricators since March 2020.
So, as residential spending remains robust and commercial construction projects restart, we thought it a better time than any to look at what makes Shelforce the supplier of choice for commercial building projects.
Why is Shelforce the supplier of choice for commercial windows & doors in the Midlands?
Reliable & competitive supply, price, & product quality
UK Building Regs compliance
Accredited commercial window & door suppliers
Diverse window & door designs & finishes to suit a range of commercial building styles
Sustainable & ethically sourced construction materials & manufacturing processes
Committed to reducing the carbon footprint of Midlands businesses
A highly skilled workforce that reflects the varied range of customers it serves
A worthwhile business that has worked hard to create a lasting legacy.
Lifesaving commercial fire doors

Accommodating a wide range of commercial projects, working closely with construction giant Wates, Shelforce recently completed the supply and installation of 210 fire doors for a sheltered housing regeneration project in Acocks Green, Birmingham.
Fire and smoke tested both inside and out, as well as PAS 24 Security tested, Fireshel fire doors achieved 49 minutes fire resistance when EN 1634-1 tested, allowing piece of mind when specifying a Fire Door solution for any local authority, housing association or light commercial replacement project.
Shelforce's Business Manager, Howard Trotter, said: "We have a valued partnership with Wates and the Pemberley Road project is a great example of what we can do here at Shelforce.
"The Fireshel system has been designed and tested to meet the highest standards to ensure that it exceeds current safety regulations.
"We offer a comprehensive fire door package with our system, ranging from fabrication through to installation, maintenance, and repair – making things as easy as possible for Local Authorities and businesses, and saving them money."
Commercial windows & doors in aluminium & uPVC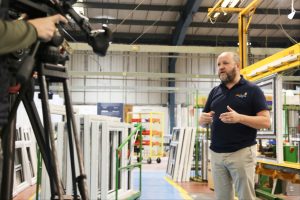 Shelforce has been chosen by producers of ITV4's Made In Britain to feature in the latest series of the programme, telling the story of British production and some of the country's best-loved products.
Hitting TV screens across the country this spring, transmitting on ITV4 in the UK and other broadcasters internationally, Shelforce's Howard Trotter said:
"It's absolutely fantastic the producers of Made in Britain have chosen us – it's a great opportunity to put Shelforce and what we do out there, and it's great for the team to be getting the recognition they deserve for all their hard work."
Commercial window & door replacements in Birmingham & The Midlands
Working on numerous successful commercial building projects, many businesses are still feeling the effects of the Brexit transition, as well as the pandemic. Coupled with the heightened need for effective ventilation within the workplace, the need for cost-effective yet high-performance commercial windows and doors has never been more crucial than it is today.
With key sites in the East Midlands and West Midlands pinpointed to drive regeneration across the region, if you require enduring commercial glass replacement for a shopfront, factory, warehouse, office, school, hospital, housing association, hotel, or any other commercial improvement project or a new build venture, contact us for a free consultation.
Related topics:
5 reasons to change composite door suppliers (& choose us!)