Fire safety has hit the headlines again recently, with fire services urging caution on plans to cut the bottoms off thousands of internal doors in an effort to improve airflow in Scotland's school classrooms.
Correctly installed and functioning fire doors are designed to save lives by preventing smoke and fire from spreading within buildings. Modifying or changing a fire-rated door can drastically impact the integrity of the door, so it is a practice best avoided where possible.
If the last few years have taught us anything, it is more understanding is needed to make sure a fire door performs as intended. So, let's look at the different types of fire doors currently available.
How many types of fire doors are there?
In the UK, fire doors are categorised by how long they can withstand fire;
FD30 – Offers 30 minutes of fire protection (44/45mm thick)
FD60 – Offers 60 minutes of fire protection (54mm thick)
FD90 – Offers 90 minutes of fire protection (64mm thick)
FD120 – Offers 120 minutes of fire protection (64mm thick)
30 and 60 minutes are the most commonly specified fire doors, where, in most cases, 30 minutes of fire resistance provides enough time for occupants to safely evacuate the building.
For absolute peace of mind, all our fire door solutions are rated to FD30 as a minimum. When tested to EN 1634-1, the doorset, complete with a stylish fanlight glazing panel, achieves 49 minutes of fire resistance.
What material are fire doors made of?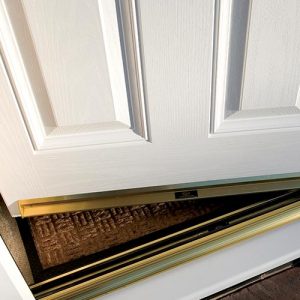 Fire doors must be constructed from materials proven to withstand fire for a minimum of 30 minutes. Glass, wood, and steel fire doors can all achieve satisfactory fire ratings. Fire rated glass provides a sleek and elegant aesthetic that's ideal for modern building facades. Fire rated timber doors retain a natural, classic appearance, whereas steel fire doors are often favoured where the highest levels of security and hygiene are needed, such as hospitals and kitchen areas.
That said, composite fire rated doors are growing in popularity for a number of reasons. Capable of smoothly replicating the high-quality appearance and strength of natural timber, composite fire doors are generally more cost-effective than other fire door materials too. Featuring an easy-clean surface and CE marked for full compliance, with a wide range of styles, colours and fire rated glazing effects to choose from, composite fire doors never compromise on existing aesthetics, safety, or security.
All Fireshel fire doors have been fire and smoke tested from both the inside and outside, as well as PAS 24 Security tested – making it a perfect fire door solution for any local authority, housing association or light commercial replacement project.
What are the different types of fire doors?
Self-closing fire doors feature a closer positioned at the top of the door. They are designed to close the door firmly against the frame when open at any angle. Self-closing fire doors are required in most residential settings to comply with Building Regulations.
Automatic closing fire doors
Automatic closing fire doors are connected to a fire alarm system. When the fire alarm is activated, the closer automatically shuts the door.
Power operated fire doors
Power-operated closers are designed for doors that open and close electrically or pneumatically. So, if there is a power failure, they are fitted with a releasing device that safely closes the door.
High quality fire rated doors UK
No matter the type of property, commercial, residential, or industrial, a careful and considered fire safety policy is essential. Specialising in social housing, new build, educational and light commercial improvement projects, our high performance replacement trade fire door solutions effectively shield and protect a wide range of properties. So, if you're looking for high quality fire door solutions, we look forward to hearing from you soon.
Related topics of interest:
What is the British Standard for fire doors?
Shelforce completes first fire door project