As champions of inclusivity in the workplace, creating sustainable homes in Birmingham and the surrounding area is also a topic that's close to our hearts. Dedicated to creating a home that truly lasts without depleting natural resources, our high-quality window and door products are designed to enhance comfort as well as reduce energy bills.
But what sustainable features do our fire door products offer?…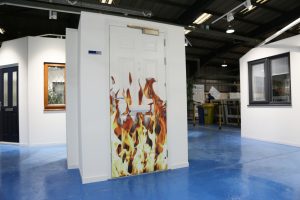 Are composite fire doors sustainable?
Since 2003, The European Composites Recycling Service Company (ECRC) has been conducting essential research into viable recycling processes of composite materials.
The Fireshel composite fire door utilises the FireFrame® dual fire, smoke, and security compliant fire door set solution from Winkhaus, which includes the FD30 / FD60 FireFrame® outer-frame. Winkhaus works hard to preserve resources and the environment, as do we. Using 100% recycled uPVC where possible, FireFrame is a specialist composite door frame tested to European Standards, which includes the EU's legal framework for treating and managing waste. With a lifespan of 35 years or more, high-performance composite fire doors (like ours!) are truly built to last.
Are your uPVC window & door products sustainable?
Yes, they are! Shelforce manufactures and installs new window and door profiles constructed from recycled material from unwanted PVC-U frames. Working in partnership with industry leaders Eurocell, with two recycling plants and a Nationwide collection service, they impressively retrieved and recycled 1.2 million frames in 2018 alone while recycling 3,000 tonnes of production waste in their "closed-loop" system.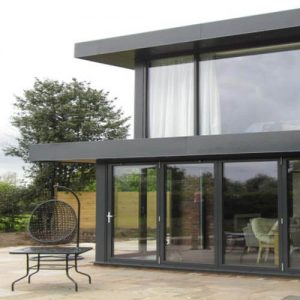 Are your aluminium window & door products sustainable?
Durable, long-lasting, and infinitely recycled with no loss of quality whatsoever, aluminium is one of the most sustainable construction materials available. And our attractive aluminium windows and doors are no different! Sourcing quality assured aluminium from local suppliers Kestrel Aluminium Systems lowers our carbon footprint even further and allows us to support our local economy too.
High-performance fire doors for proactive local authorities & housing associations
From security accreditations to high energy performance, our products have a range of accreditations that ensure reliability every time. At the cutting-edge of innovation, safety, and sustainability, our firm commitment to quality shines through our entire range of improvement products. Contact our team of experts to find out more.
Related topics of interest:
What is the British standard for fire doors?
Shelforce helps fire service with door entry training