Interior design impacts our daily lives far more often than we care to realise. As people increase time spent indoors, whilst the typical British home steadily decreases in size to accommodate an increasing population, it's crucial to gain an understanding of how interior design affects us psychologically as well as physically.
Moving to a new house features highly as one of life's most stressful events, but when we think about health, happiness and wellbeing we often underestimate the emotional effect that our current living spaces can have on our state of mind. Design factors to take into consideration include colour and lighting, soundproofing, air quality and furnishings.
So, if you or your clients are looking to create a fresh, harmonious and soothing ambience at home, we thought we'd introduce you to 3 inspirational 'wellness' trends that have found their way into today's interior design.
1. Biophilic interior design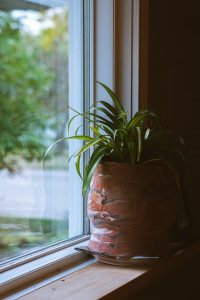 Unfamiliar by name, we're sure that you've experienced biophilic design in some shape or form. Considering we spend 90% of our time inside, biophilic design incorporates nature into the built environment and addresses the idea that we all have a deep-rooted connection to the natural world. Biophilic design confronts these connections through architecture and interior design, which can have a positive impact on an individual's overall mood and wellbeing.
Interestingly, by incorporating biophilic design elements, such as natural light, wood, plants and water features, key findings in this field include:
Residential areas experienced 7-8% less crime attributed to areas with access to nature, whilst commanding an increase of 4-5% in property price
Education spaces experienced increased rates of learning, concentration levels and attendance and reduced impacts of ADHD
Healthcare spaces experienced reduced recovery rates and notable reductions in pain medication.
Attention restoration theory also ties in with biophilic design, which suggests that people concentrate better after spending time in nature or looking at scenes of nature.
Lift your spirits by connecting to the natural environment, with some biophilic design inspiration that you can apply to your own home (or your clients);
Bring as much natural light in as possible, e.g. open up views to allow the light to flow through
Natural colours raise mood, productivity and creativity, e.g. darker greens, blues, browns, tans and tawny golds
Naturally inspired décor, e.g. Botanical wallpaper
2. Japanese interior design
A number of worldwide studies show that stress increases when Western lifestyles and work habits are adopted, with many searching for a simpler way of life. Nicely tying in with biophilic design, the concept of Japanese interior design centres around the creation of a 'Zen' atmosphere coupled with a love of nature. Emphasizing the value of meditation, whilst adapting to the need for smaller living quarters, Japanese interior design seamlessly combines the simplicity of Japanese architecture with minimalist interiors that focus on individual pieces.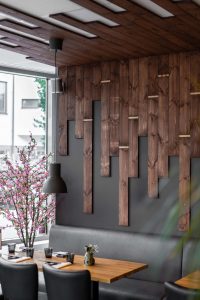 Japanese interior design can be summed up by the phrase 'Danshari'. Deriving in part from yoga, this Japanese phrase suggests disposing of mental clutter, along with physical junk – aka, ditching materialism for a simpler way of life.
To create your very own sanctuary of calm, here are a few ideas to begin with:
Earthy colours are relaxing colours
Soft natural flooring e.g. 100% wood or wool carpets
Light, natural fabrics that match the rest of the room
Swap harsh fluorescent lighting with calming natural inspiration e.g. candlelight or floor lamps
Avoid complicated detail, clutter and electronic interruptions
Use fresh, natural scents throughout the space e.g., essential oils
Add soothing green plants e.g. bonsai trees or hanging terrariums.
Interestingly, Japan has the world's second-longest average life expectancy – only just beaten by Hong Kong*. With strong links to diet and healthy eating habits, it can't be denied that their 'Zen' interiors play an important role here too.
*Correct at time of publishing.
3. Wellness interior design
Although around for centuries, the 'Wellness Design Movement' is set to become an interior design trend in its own right. Promoting wellness across the board, the main aim is to calm the mind and inspire creative thinking through proactive colour and material choices. The key to 'wellness' lies in a soothing tonal balance, avoiding heavy contrasts. As well as natural material use and spaces that connect to nature, curved furniture is also a key element in successful wellness interiors.
Creating healthy, motivating, & inspiring environments is a breeze with Shelforce
Manufacturing and installing aesthetically pleasing windows and doors and increasing awareness of health and disability go hand in hand at Shelforce. Catering to a variety of trade projects, including local authority building projects and repairs, educational building refurbishments, and residential new builds, if your project requires specialist PVC-U or aluminium windows and doors, get in touch today.
Related reads:
Dealing with changing routines – Tips for adults with learning disabilities