No matter the type of setting it's for, an effective fire safety strategy should always centre around the maxim 'prevention is better than cure'. The consequences of a fire are catastrophic, with many businesses unable to fully recover, so it's crucial to prevent a fire from starting altogether.
Although the latest Fire and Rescue Incident statistics reveal a 3% decrease in fires attended compared with the previous year, in the year ending December 2020:
Fire and Rescue Services (FRSs) attended 153,278 fires
There were 64,066 primary fires (dwelling fires, other buildings fires, and vehicle fires)
FRSs attended 755 fires in purpose-built high-rise (10+ storeys) flats.
The majority of fires tend to take place in non-residential buildings and are often recorded as workplace incidents. With this in mind, we've compiled these seven top fire safety tips to reduce the risk of fire in the workplace and protect your employees and colleagues from harm.
How can fire safety be improved in the workplace?
1. Install and maintain certified fire doors
In-line with your obligation to provide clearly marked escape routes, the use of internal fire doors to prevent the spread of fire is essential. FD60 fire doors are often used in commercial settings, however professionally manufactured and installed FD30 fire doors can also be considered in certain light commercial settings, e.g., offices, restaurants, warehouses, etc.
The Fireshel composite fire door utilises the FireFrame® dual fire, smoke and security compliant fire door set solution from Winkhaus, which includes the FD30 / FD60 FireFrame® outerframe.
Learn more > Fire door awareness critical, says Shelforce manager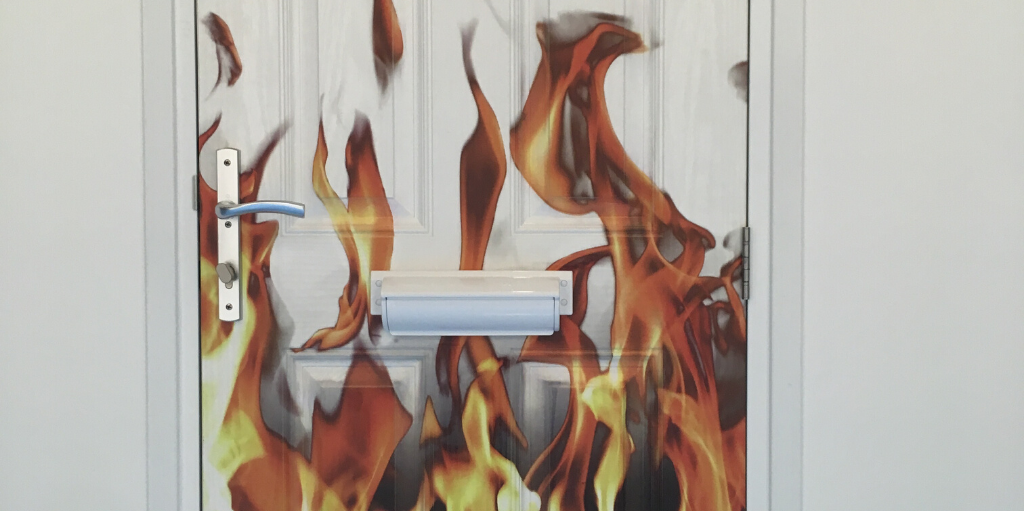 2. Carry out thorough fire risk assessments
To fully comply with the Regulatory Reform (Fire Safety) Order 2005, the responsible person (e.g., the owner or someone appointed by the employer) must carry out a fire-risk assessment to identify any possible dangers and risks. This must be reviewed regularly, clearly explaining the risks identified to employees, provide training where needed, and put in place and maintain appropriate fire safety measures.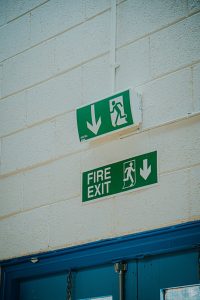 3. Prepare an emergency plan
A formal fire emergency plan is also a mandatory requirement to create effective escape routes, ensure employees understand the actions required when a fire is discovered, the types of warning systems in place, the company evacuation procedures, and any special arrangements for employees with mobility needs. To remain effective, fire risk assessments and emergency plans must be kept up to date and regularly reviewed.
4. Display fire action signs clearly & install emergency lighting
In-line with your legal requirement to inform all employees of fire safety instructions, it's best practice to install well-lit fire action signs that clearly explain what to do in the event of a fire, the closest assembly point, how to raise the alarm, etc.
5. Designate a fire warden
Every workplace must have at least one designated fire warden in place to monitor fire safety and assist with evacuations. They will need to be trained in fire safety awareness and how to use fire-fighting equipment. Typically, low-risk commercial buildings need one fire warden for every 50 employees, medium risk properties need one warden for every 20 people, and high-risk properties need one warden for every 15 staff. Of course, this depends on multiple factors, such as how many floors there are.
6. Conduct regular fire drills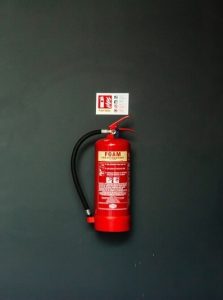 To familiarise employees with evacuation procedures and ensure they can safely exit the building in the event of a fire, employers are legally obliged to conduct fire drills at least once a year. That said, it's best practice to hold them more regularly – especially if the building is particularly high-risk. It's also important to keep a record of each fire drill and the specific findings from each one.
7. Choose the right fire extinguisher
Those in charge of fire safety must also understand the different types of fire extinguishers available. For example, fire extinguisher regulations dictate that all commercial buildings with electrical equipment must have at least 2kg CO2 extinguishers to remain compliant. Ideally, fire extinguishers should be placed near potential fire risks, emergency exits, fire alarm call points, and stairways, and employees shouldn't have to travel more than 30 metres from the site of a fire to reach one.
What is the most common cause of workplace fires?
Electrical faults / faulty equipment
Poor housekeeping, e.g., clutter
Combustibles on site, e.g., wood, paper, rubber, plastics
Human error, e.g., using equipment incorrectly
Negligence, e.g., old fire risk assessments / propping a fire door open.
Learn more > Fire safety in the workplace: Who's responsible
What is the principle fire safety legislation in the UK?
Social landlords and housing associations have a responsibility under the Regulatory Reform (Fire Safety) Order 2005 (FSO) to ensure their domestic properties and tenants are safe. Whereas all non-domestic buildings are subject to the Regulatory Reform (Fire Safety) Order: 2005 (RRO).*
Learn more > What is the British Standard for fire doors?
*Correct at time of publishing
High performance fire doors UK
At Shelforce, we specialise in manufacturing, designing, and installing premium fire-rated doors for light commercial refurbishments and developments across the UK. So, if you require low maintenance, fully compliant replacement fire doors, give our team of experts a call on 0121 603 5262 or get in touch online.
Related topics of interest:
Shelforce completes first fire door project
What are the different types of fire doors?