Paving the way towards net-zero CO2 targets by 2050, as of Wednesday 15th June 2022, building regulations in England are changing. So, whether you're a homeowner, trade installer, architect, or developer, to help you out we've taken the time to explain what the changes are and the types of buildings they apply to.
How are building regulations changing?
Setting the standard for the design and construction of buildings, building regulations ensure the safety and health of people in or around those buildings. Encompassing all the elements of construction, from foundations to structural stability and damp-proofing to fire protection, the imminent changes focus on ventilation, energy performance, and overheating.
Which buildings do the new building regulations in England apply to?
These new rules indicate carbon emissions from new build homes must be 30% lower than current standards, and other new buildings must be 27% lower (offices, shops, etc.). The new building regulations apply to new extensions and existing buildings too.

What are the changes to Part F?
Setting the standard for building ventilation and indoor air quality, the latest changes to Approved Document F mean new windows in existing homes, new homes, and new extensions will require trickle vents to prevent under-ventilation and moisture build-up.
Important points to consider:
– Multiple trickle vents may be required to meet minimum airflow requirements
– Night vents do not count and cannot be used as a method to provide background ventilation
– It is the window installer's responsibility to ensure the installation meets the new requirements
– Replacement windows must feature the same size or larger trickle vents; they cannot be smaller than the original background ventilators
– Trickle vents must be easily controlled automatically or manually by the occupant
Although the ventilation requirements for buildings other than dwellings are largely unaffected, additional mechanical ventilation, extractor fans, or windows and doors with trickle vents may be required in common areas such as corridors, bathrooms, and kitchens.
Approved Document F, Volume 1 for dwellings
Approved Document F, Volume 2 for buildings other than dwellings

What are the changes to Part L? And what U-value do I need for building regs?
Providing essential guidance for the energy performance of new and existing buildings, the latest amendments to Approved Document L reduce the current maximum U-value for windows in existing homes from 1.6 W/m²K to 1.4 or Window Energy Rating Band B. Energy ratings for replacement doors in existing homes are also tightening up, changing from 1.8 to 1.4 or Door Energy Rating C. Windows installed in new homes must achieve a U-value of 1.2 or lower and 1.0 for doors.
Crucial points to be aware of:
– Conservatories will need a U-value of 1.5 to comply
– A target of 0.8 for windows and doors in existing and new build homes is expected in 2025
– For timber windows, a maximum U-value of 1.6 W/m²K or Window Energy Rating Band C is permissible until 14th June 2023 to give manufacturers time to transition to the new standard. From 15th June 2023 the full standard of 1.4 W/m²K or Window Energy Rating Band B applies.
– Wide 'non-standard' doors, like sliding patio doors and bi-folding doors, will be calculated separately
Approved Document L, Volume 1 for dwellings
Approved Document L, Volume 2 for buildings other than dwellings

What is Approved Document O?
Created to address overheating in new residential buildings, this latest standard is the first of its kind. Looking out for those who reside within, whether it's a home or a school, Approved Document O provides guidance on limiting unwanted solar gain to ensure comfortable indoor temperatures all year round. Viable ways to reduce solar gain include replacing inefficient glazing with solar control glass, reducing glazed areas, or alternative approaches outlined in the new document.
PLEASE NOTE: Although the amended regulations come into force on 15 June 2022, the changes will not apply in relation to building work where a building notice or an initial notice has been given to, or full plans deposited with, a local authority before 15th June provided that the building work is started before 15th June 2023.
*Correct at time of publishing
High-performance windows and doors that comply with the latest building regulations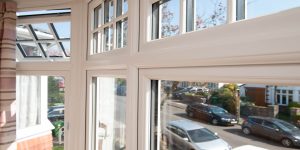 As a dynamic manufacturer and installer, you can count on all our window and door products for the highest possible standards, including outstanding thermal efficiency. Able to achieve A+ energy ratings, our home improvement products work hard to retain the warmth of any home or building, even lowering energy bills in some instances.
Find out more about who we are and what we do by exploring our news feed. Alternatively, you can give our team of friendly experts a call on 0121 603 5262 or contact us online.
Read our related blogs:
What is the Building Safety Bill 2021 and who will it affect?
How will window and door manufacturers adapt to a new era of fabrication?
The Midlands chosen supplier of choice for commercial windows and doors