Shelforce has increased the manufacturing capacity for its fully compliant Fireshel 30-minute fire, smoke and security resistant door and is now producing 200 doors a week to cope with rising demand.
From manufacturing 70 fire doors a week from a standing start two years ago, it shows the popularity of the door.
Shelforce also welcomed a couple of competitors to come and have a look around their factory to see their employment model and the way they do things, and in the end one asked if they could make the doors for them.
Shelforce's Business Manager, Howard Trotter, said: "It doesn't seem that long ago when we had to hit 130 doors a week, and the demand for our Fireshel has just continued to rise. We are getting busier and busier and have had to create more full-time jobs as a result."
Local Authority fire door projects
Shelforce has experience with all types of social housing refurbishment and maintenance and has developed a first-class reputation for providing Local Authorities with the highest quality windows and doors on time and within budget.
They are currently helping to deliver important refurbishment projects within Birmingham, including five tower blocks in the city for both fire doors and windows.
Those include 6,000 fire doors for energy and regeneration specialists Equans and 2,500 for Fortem, which provides specialist property solutions.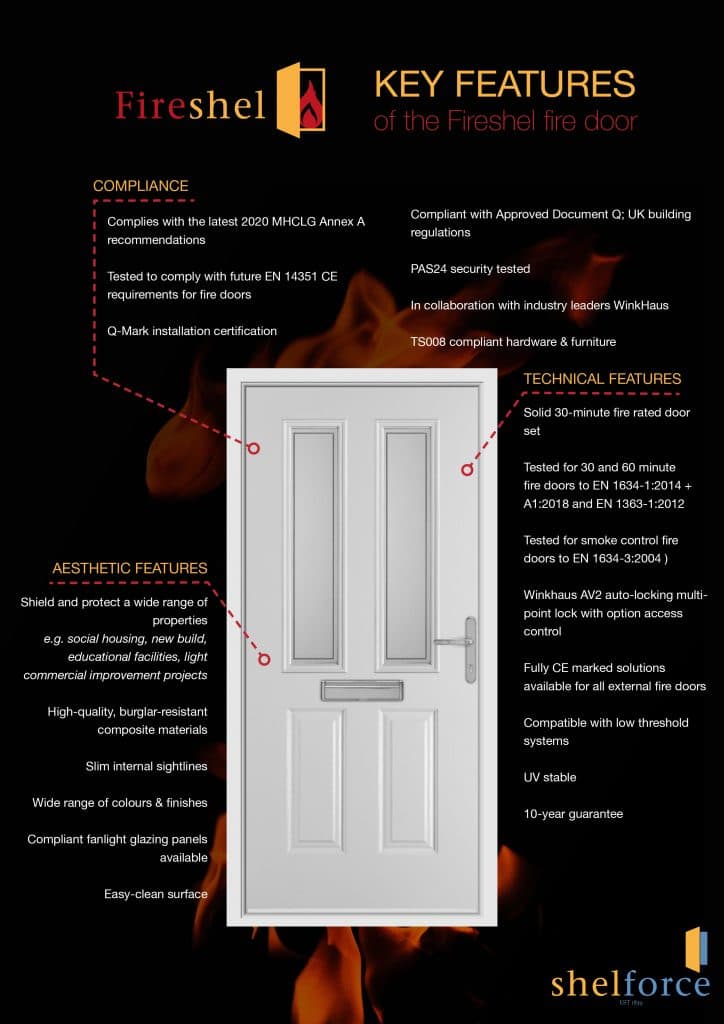 A fully compliant and safe fire door solution for Local Authorities
The Fireshel is the perfect solution for local authorities who need fully EN tested 3rd Party Accredited, replacement Fire Door sets that are compliant with the latest 2020 MHCLG Annex A recommendations.
The fully compliant 30-minute composite fire door uses the FireFrame® dual fire, smoke and security compliant fire door set solution from Winkhaus which includes the FD30 / FD60 FireFrame® outerframe, and the Winkhaus AV2 auto-locking multi-point door lock with optional access control and is tested to resist security and fire including TS008 compliant letterplates, numerals, eye viewers, door knockers and security chains.
The door has achieved all the new stringent recommendations set by the MHCLG, has proven 30-minute fire resistance consistency having been fire tested from both sides many times to EN1634 -1, achieving 49 minutes fire resistance, and has also been PAS 024 Security tested for security compliance. Fireshel doors are also Q Mark 170 Scheme 3rd Party Accredited.
To find out more about how the Fireshel from Shelforce is perfect for your local authority building project, call Shelforce on 0121 603 5262 or visit www.shelforce.com.
Related blog posts:
4 sings your fire doors are being neglected
 5 reasons to change fire door suppliers (and choose us!)
What are the different types of fire doors?