With a new date for Fire Door Safety Week to be announced due to its postponement because of the passing of the Queen, it's important to know the signs you need to look for to see if your fire doors are being neglected.
Fire Door Safety Week
Everyone plays their part in ensuring a fire door performs as it should, from the manufacturer through to the building users. It is crucial, therefore, to understand the factors that ensure a fire door performs as intended.
A poorly functioning fire door provides little protection in the event of a fire and a correctly maintained fire door could prove the difference between life and death as it can buy valuable time allowing building occupants to escape.
Earlier this year the Fire Door Inspection Scheme (FDIS) revealed that three quarters of the fire doors inspected in the UK in 2021 by its approved inspectors did not meet the required standard, with the most common reasons for failure being improper installation, including excessive gaps between the door and the frame, care and maintenance issues, and smoke sealing issues.
Fire Door Safety Week was launched in 2013 to increase public understanding of the vital role that fire doors play in protecting life and property. During the week, companies from across the industry will come together to emphasise the importance of good fire safety practice.
What should I look for when inspecting a fire door?
Fire doors must be regularly inspected and well-maintained to ensure they are in full working condition all the time. You must check the following:
Gaps – Gaps around the top and sides of the door must be consistently less than 4mm when the door is closed, and you should not see light under the door. If there are any large gaps, report the door to the property owner.
Seals – Intumescent seals around the door and frame expand when exposed to heat to fill any gaps and prevent flames from passing through. If you find damage to seals, report it to the property owner.
Hinges – All hinges must be firmly fixed with no missing or broken screws. If you find any issues, report them to the property owner.
Closing – A fire door will only work when it closes properly, and the door must close firmly onto the latch without sticking on the floor or the frame. If you find a door won't close properly, report it to the property owner.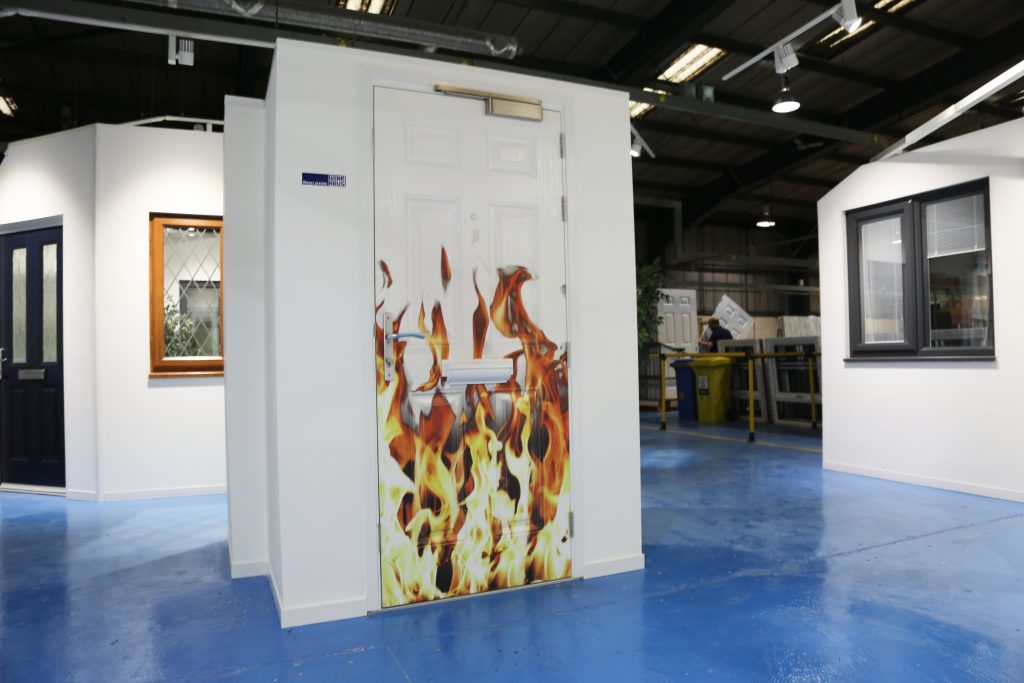 How can you tell if a fire door is compliant?
It is a legal requirement for fire door manufacturers to provide test evidence to show their product's ability to resist fire. Any fire door installed must have a Field of Application from the manufacturer and be third party audited to make sure it is compliant.
The most reliable way to identify that a fire door is compliant is to look for the certification label or mark on the top edge of the door. Without a certification mark, you cannot be sure this really is a fire door. If you don't find any label with a certification mark, report it to the property owner.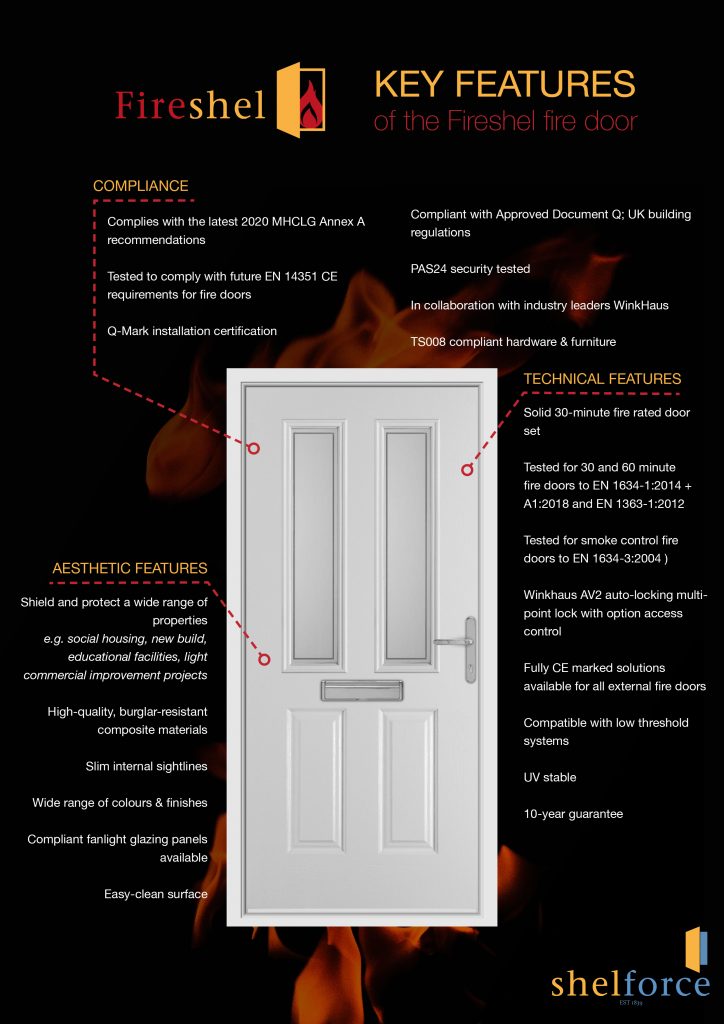 A fully compliant and safe fire door
Our fully compliant 30-minute Fireshel composite fire door uses the FireFrame® dual fire, smoke and security compliant fire door set solution from Winkhaus which includes the FD30 / FD60 FireFrame® outerframe, and the Winkhaus AV2 auto-locking multi-point door lock with optional access control and is tested to resist security and fire including TS008 compliant letterplates, numerals, eye viewers, door knockers and security chains.
The door has achieved all the new stringent recommendations set by the MHCLG, has proven 30-minute fire resistance consistency having been fire tested from both sides many times to EN1634 -1, achieving 49 minutes fire resistance, and has also been PAS 024 Security tested for security compliance. Fireshel doors are also Q Mark 170 Scheme 3rd Party Accredited.
Find out more about who we are and what we do by exploring our news feed. Alternatively, you can give our team of friendly experts a call on 0121 603 5262 or contact us online.