As awareness grows about fire doors following the Grenfell tragedy, many local authorities, housing associations, contractors, construction companies and installers are looking for internal and external FD30 and FD60 fire door manufacturers in the UK.
We at Shelforce combine the perfect mix of high resistance materials in composite doors offering an incredibly durable barrier that proactively avoids the common flaws associated with entrance doors whilst giving ultimate protection against fire and smoke.
Let's look at why we think our fire doors are better than the rest and why we believe you can benefit from installing an FD30 and FD60 fire door from Shelforce.
Multi-tested trade fire doors
Shelforce works with industry leaders WinkHaus and uses the Fireshel composite fire door, which incorporates their high-performance fire door frame FireFrame®. The dual fire, smoke and security compliant fire door solution has undertaken extensive market research and testing, which include:
Tested for 30 and 60-minutes. Our fire doors meet the EN 1634-1:2014 + A1:2018 and EN 1363-1:2012 criteria
Tested for smoke control fire doors to EN 1634-3:2004
Tested to comply with future EN 14351 CE requirements for fire doors
Q-Mark installation certification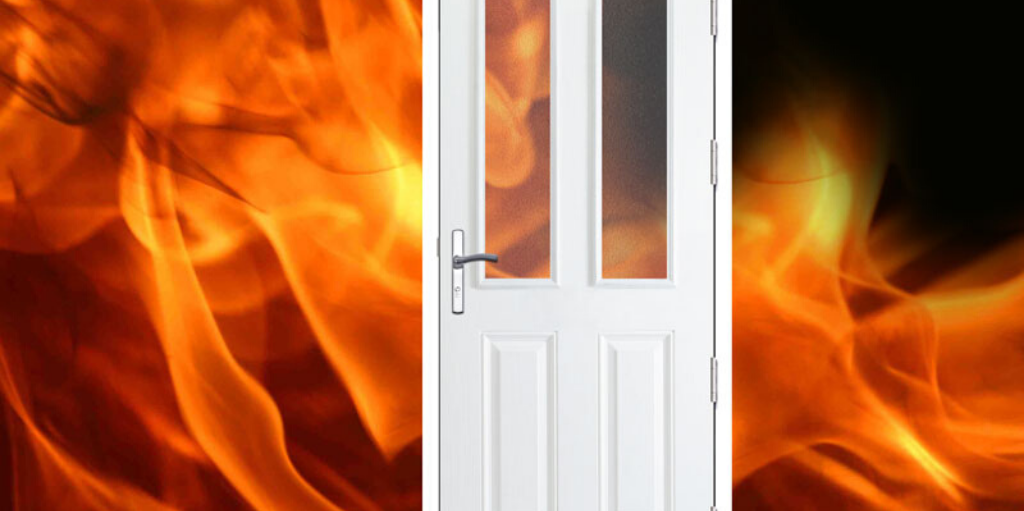 Secure external fire doors
Shelforce uses quality fire door hinges through to matching fire door handles. You have the choice to upgrade to a residential fire door from us to enhance your clients' home security features whilst maintaining their home aesthetics. Our fire door security features include:
PAS24 security tested
Compliant with Approved Document Q; UK building regulations
Winkhaus AV2 auto-locking multi-point lock with optional access control
TS008 compliant hardware & furniture
Highly efficient fire doors
By installing a high-performance Fireshel fire door, many advantages can be noticed immediately. Our fire doors reduce heat loss and reduce energy bills. Giving comfortable home temperatures all year round. Benefits include:
High-performance insulating materials
Wide range of colours & finishes
Compatible with low threshold systems
UV stable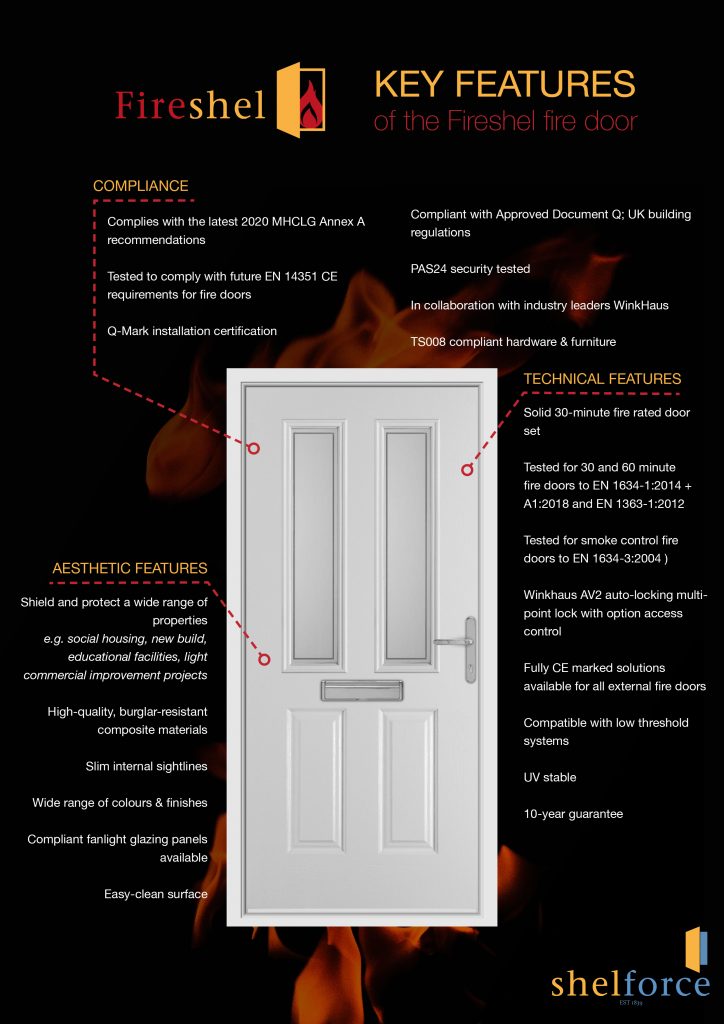 Third-party certification on our fire doors
Third-party certification ensures the product is manufactured to the exact specification and quality when initially assessed. Third-party auditing and certification is a legal requirement for new fire doors in a high-rise building and shows the actual test behaviour. It confirms criteria are met and consistently maintained for optimal safety.
To ensure the fire door specification is consistent and repeatedly manufactured with the exact specification, our Fireshel doors are Q Mark 170 Scheme 3rd Party Accredited for total peace of mind.
Fully compliant fire doors
Shelforce is Birmingham City Council's manufacturer and supplier of choice. Our Fireshel fire-resistant door products are designed and constructed with local authorities and high-rise buildings' safety in mind. The latest advice from the government suggests building owners must replace any fire doors that fail to meet current fire or smoke resistance testing and follow up with routine inspections and regularly maintained. We know what you need and have the answers to questions about correct manufacturing and installation of fire, smoke and security resistant doors.
Our fire doors are fully compliant with the latest MHCLG Annex A recommendations giving you the confidence to make the change to Shelforce as your fire door supplier this year.
Change your fire doors trade supplier to Shelforce today!
As awareness of fire safety grows and the need for fire doors increases, you may be looking for a new fire door supplier. Contact the Shelforce team today to discuss your requirements. We are happy to help!