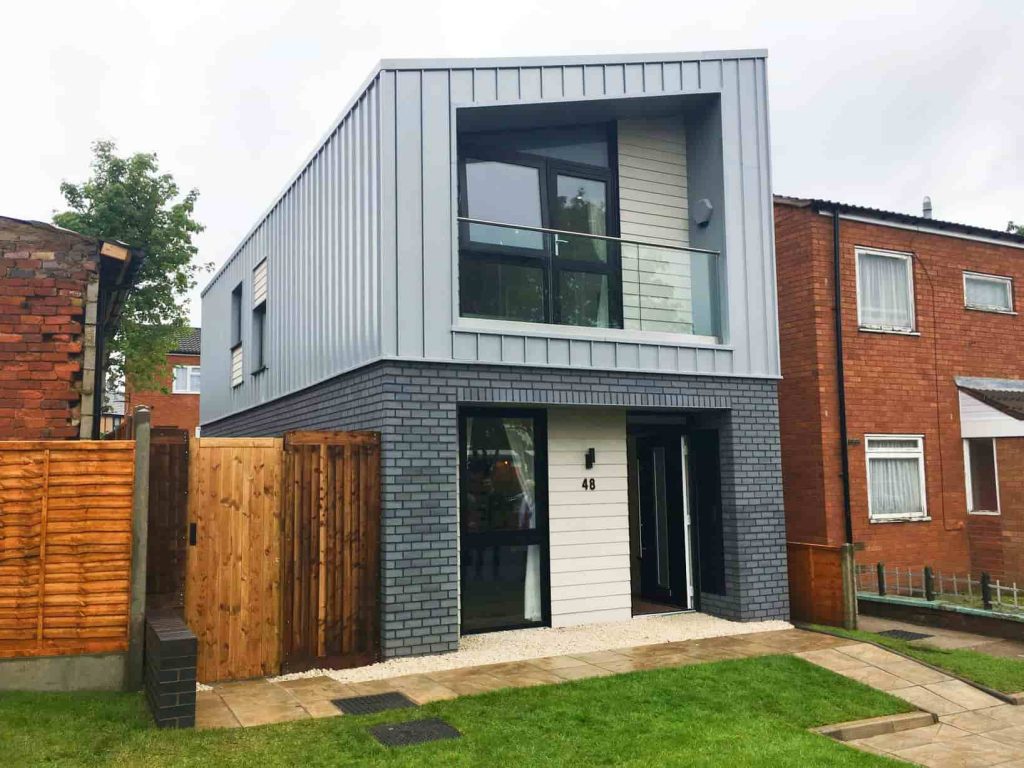 Shelforce has played a part in a housing first for the city – thanks to manufacturing all the aluminium windows for Birmingham City Council's first ever modular home, which was unveiled in Hockley in June.
The property was manufactured by Just Solutions after the company recognised the national need for affordable housing as well as the need to utilise brown field sites.
Birmingham City Council's housing arm Birmingham Municipal Housing Trust (BMHT) chose to partner with Just Solutions to deliver their first 'ModPod.'
And as Shelforce are the Council's chosen manufacturer and supplier of choice having worked on a huge number of local authority projects in the past, they were perfect.
What is modular housing?
Modular homes are a type of prefabricated home built from components made in advance in a factory, unlike a traditionally-built home which is assembled piece by piece at the site from the building materials.
It consists of sections, or modules. After the modules of a modular house have been delivered to site, they are installed to create the home.
Birmingham's 'ModPod' comes in two units – the ground floor and first floor – both of which are essentially steel frames with the necessary insulated walls and customizable facades.
It features a 4mm thick Acrylic brick finish on the bottom and a corrugated Aluminium exterior on the top.
Sleeping up to four people, it has everything expected of a modern home, including an upstairs and downstairs bathroom, while the master bedroom boasts a balcony.
The unit took an hour to crane into place on a pre-prepared site and was available for tenants to occupy on the same day.
It took around 20 weeks to build, however on a live production line Just Solutions have said this could be shortened to just two weeks.
A real difference to communities
BMHT already having council approval to build a further 54 units across six sites over the next 12 months, subject to planning consent, and aim to deliver that in two years before conducting a review of the modular homes programme.
Shelforce's Business Manager, Howard Trotter, said: "The new 'ModPod' looks great and for Shelforce to be playing a part in such a worthwhile project for the city is brilliant.
"Shelforce has always been about making a real difference for our communities and these modular homes will hopefully meet the housing demand in Birmingham. If this pioneering programme is a success then it will not only be great for our city but also for Shelforce."
Find out more about who we are and what we do by exploring our news feed. Alternatively, you can give our team of friendly experts a call on 0121 603 5262 or contact us online.
Related blog posts:
Shelforce – your social housing partner
Shelforce crowned Birmingham Business of the Year
Birmingham crowned the UK's first compassionate city
How lean manufacturing principles has led to success for Shelforce