Did you know new planning requirements on fire safety for high-rise residential buildings came into force on August 1st, requiring developers to consider fire safety at the earliest stages of planning?
As Fire Door Safety Week 2021 is only a few weeks away (20-26th September), and the popularity of our fully compliant Fireshel 30-minute fire door continues to go from strength to strength, we thought we'd take a look at what local authorities should be looking for when it comes to choosing effective fire door replacements for high rise buildings – and why Fireshel is the ideal solution.
Fire performance – Field of application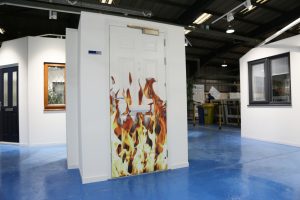 When it comes to specifying new fire doors, local authorities and housing associations must meet the standards set out in the latest 2020 MHCLG Annex A recommendations.
As fire door manufacturers, we are legally required to provide test evidence to demonstrate the product's ability to resist fire. The document used to collate the latest fire door test evidence is known as the Field of Application, which ensures the official statement that door sets within the size ranges listed are all compliant. No Field of Application documentation means variations of tested composite door sizes are prohibited.
So, when local authorities need to specify fire doors in high rise buildings, they should reference the manufacturer's test evidence/certification and documentation for proposed fire door sets and carefully check this evidence to ensure it adequately demonstrates compliance and meets the performance requirement in the Building Regulations guidance for fire resistance and smoke control from both sides of the door.
All fire doors installed must have a Field of Application from the manufacturer – without it the right door will not be fitted properly, putting lives at serious risk. The Fireshel Field of Application confirms the door has been fire tested to EN1634 -1 from both the inside and the outside and has proven fire resistance performance.
Third-party certification of fire doors
To provide an extra level of assurance that the product is manufactured to the same specification and quality as that originally tested, third-party auditing and certification is another legal requirement for new fire doors in high-rise buildings. Third-party certification also shows the original test behaviour and criteria is met and consistently maintained.
To ensure the tested fire and smoke door specification is consistently and repeatedly manufactured with the exact same specification, our Fireshel doors are Q Mark 170 Scheme 3rd Party Accredited for absolute peace of mind.
Identify the priority of attention to your GRP composite fire doors
Taken from the latest 2020 MHCLG Annex A recommendation, these helpful flow charts aim to assist Building Responsible Persons to identify the priority of attention to their GRP composite fire doors.
General needs blocks of flats (Page 8 of 9)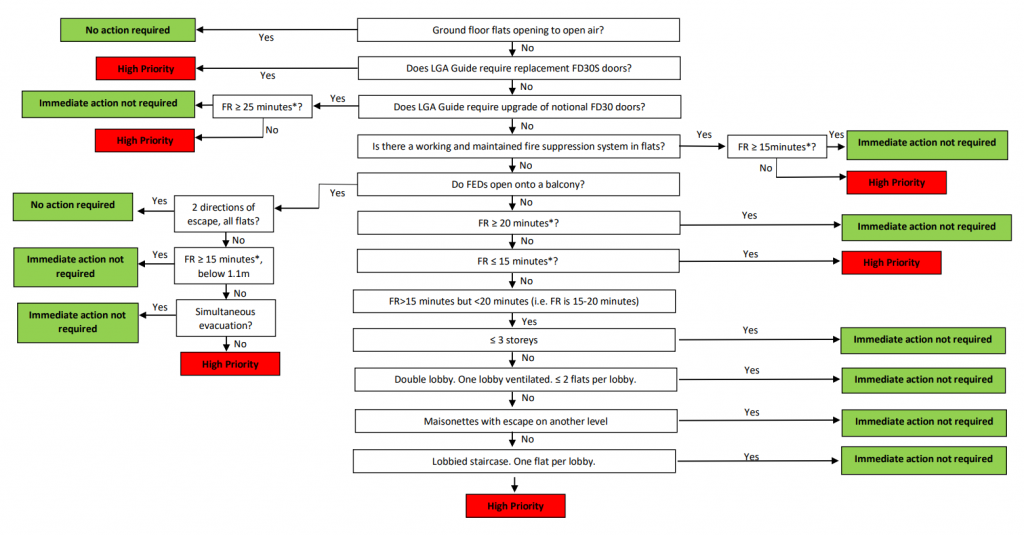 * These periods of fire resistance are extrapolated from historical standards that many older high-rise blocks will have been designed to. This is not intended to suggest that they would be appropriate for new buildings or where new door sets are being procured.
Specialist housing blocks of flats (Page 9 of 9)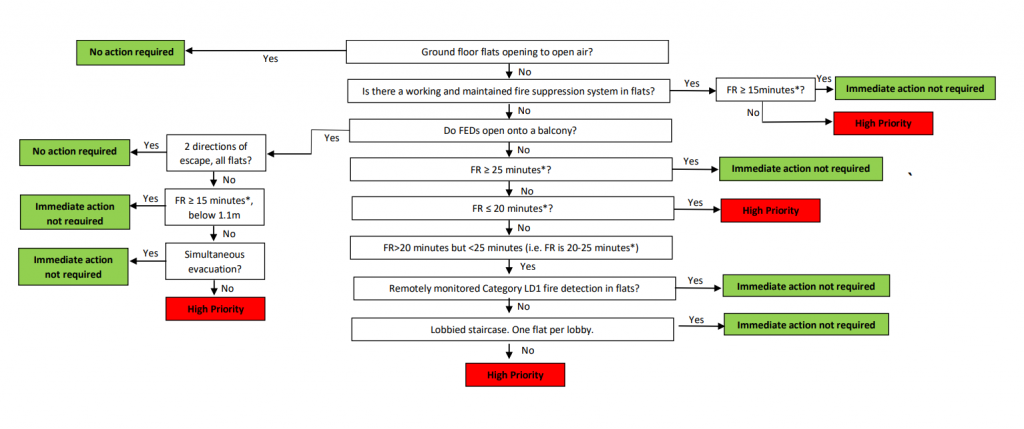 Multi tested trade fire doors
Adhering to all the new strict recommendations set out in the MHCLG, our Fireshel fire and security door set solution has proven 30-minute fire resistance consistency – having been tested from both sides many times to EN1634 -1, achieving 49 minutes fire resistance.
The ideal fire door solution for a variety of local authority regeneration projects, notable Fireshel fire door features include:
Winkhaus FD30 / FD60 FireFrame® outerframe
PAS24 security tested
Fire doors with glass made possible with compliant fanlight glazing panels
Fully CE marked solutions available for all external fire doors
Fabrication, installation, maintenance & repair services
Fireshel fire door achievements
Replacement fire, smoke & security doors that comply with 2020 MHCLG Annex A recommendations
As Birmingham City Council's manufacturer and supplier of choice, our Fireshel fire resistant door products are designed with local authorities and high-rise buildings in mind. The latest government advice suggests building owners must replace existing fire doors if they fail to meet current fire or smoke resistance performance, followed up with routine inspections and maintained regularly by a qualified professional by law. We understand what you need and have the answers to questions on correct manufacturing and installation of fire, smoke and security resistant doors.
Fully compliant with the latest 2020 MHCLG Annex A recommendations, it's time to change your fire door trade supplier to Shelforce. Give us a call on 0121 603 5262 or contact us online to learn more.
Related topics of interest:
What is the British Standard for fire doors?
Fire door awareness critical, says Shelforce manager
Are your fire doors fit for purpose?