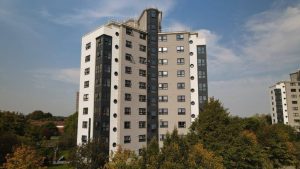 Shelforce window and door manufacturer has been praised for its service on a high-profile tower block project in the city.
Shelforce worked closely with energy and regeneration specialists ENGIE to help deliver the external refurbishment of two tower blocks – 132 properties – in Birmingham known as the 'Boat Blocks' for Birmingham City Council.
These 12-storey blocks of identical design in Nechells were the first residential tower blocks to be constructed in post war Birmingham in 1954, and ENGIE had been appointed as one of the Council's framework contractors, with the scheme to be delivered by two contractors, with two blocks each.
Quality windows & doors perfect for tower blocks across the Midlands
With the blocks suffering from poor thermal performance and requiring external upgrades, ENGIE turned to Shelforce to provide new double glazed uPVC windows that would help deliver warmer homes and lower fuel bills for residents.
And the service Shelforce provided from start to finish went above and beyond for ENGIE.
"Shelforce were very professional from the inception of this scheme, offering a hands-on, fully comprehensive approach," said John O'Leary, ENGIE'S Project Manager.
"This scheme had very strict and unique planning requirements regarding the performance of the replacement windows and the service provided by Shelforce was much more than a window manufacturer.
"They provided an in depth and superior knowledge, of the options available, to satisfy the aforementioned strict and unique planning requirements.
"We have worked with Shelforce for a number of years now, and they have huge experience when it comes to delivering Local Authority projects.
"It was a pleasure and privilege to partner with them again to deliver the refurbishment works to the Boat Blocks in Nechells, and we look forward to continuing to work with Shelforce in the future."
Warmer, more efficient homes for tenants living in high-rise apartments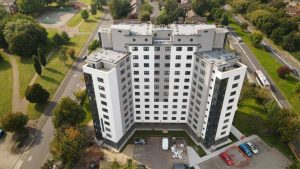 For Shelforce's Business Manager Howard Trotter, it represents another job well done for the company.
"The Boat Blocks is a great example of what we can do here at Shelforce," said Howard. "We have a valued partnership with ENGIE and worked closely with them to specify new windows with an improved thermal and acoustic specification to help bring the properties up to the energy efficiency requirements.
"Being able to help provide warmer, more energy efficient homes to tenants living in high-rise apartments across the city is fantastic. It improves the quality of life for residents, cuts carbon emissions and helps lower energy bills."
From high rises and new builds to schools and colleges, Shelforce has experience with all types of social housing refurbishment and maintenance and has developed a first-class reputation for providing Local Authorities with the highest quality windows and doors on time and within budget.
An employment stepping stone for people with disabilities in Birmingham
The company is also dedicated to supporting and recruiting people with disabilities looking to enter employment, with 75% of its workforce disabled.
Howard added: "We understand the challenges Local Authorities face and what is important for both them and their tenants and our business is rooted in the long-standing relationships we have created across the social housing sector, working closely with clients to ensure we only supply the highest quality products.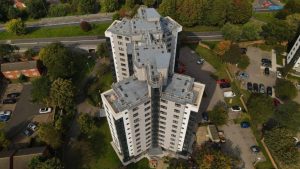 "This, coupled with our approach and commitment to delivering real change for people and communities, is what makes us such an attractive proposition."
It has been quite a year for Shelforce, with the launch of its new fully compliant Fireshel 30-minute fire, smoke, and security resistant door in the summer followed by welcoming camera crews to its factory for a spot on ITV4's new series of Made In Britain,
To find out more about how a partnership with Shelforce would boost your local authority building project, call Shelforce on 0121 603 5262 or visit www.shelforce.com.