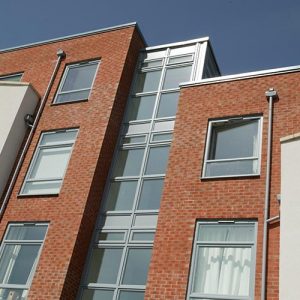 For window and door manufacturer Shelforce, going above and beyond for Local Authority construction projects has been what it does best for the last decade.
A combination of supplying high-quality PVCu and aluminium products, ensuring each project is finished on time, and delivering value for money has seen Shelforce become the manufacturer and supplier of choice for Birmingham City Council (BCC) for most of its projects.
From high rises and new builds to schools and colleges, Shelforce has experience in all types of social housing repair and refurbishment and shines in the public sector.
For Shelforce's Business Manager Howard Trotter, the reason for the company's success is simple – providing the best result for the Local Authority is not its sole focus. Shelforce also wants to leave a legacy for the community it serves too.
"We understand the challenges Local Authorities face and what is important for both them and their tenants," said Howard. "And we also want tenants to feel safe and secure and have pride in their home."
Raising the standard in social housing
Shelforce's experience means that it is so much more than a window manufacturer, providing valuable guidance on the best products available to do the job required.
On a recent external refurbishment of two tower blocks in Birmingham, contractor Engie praised Shelforce, with the company providing new double-glazed uPVC windows to deliver warmer homes and lower fuel bills for residents.
John O'Leary, Engie's Project Manager, has worked with Shelforce for several years, and he said: "There were very strict and unique planning requirements regarding the performance of the replacement windows, and Shelforce provided an in-depth and superior knowledge of the options available."
"At Shelforce we feel it's or duty to offer a hands-on, fully comprehensive approach to every project we undertake," said Howard. "Local Authorities need to make sure the right products are being specified and thanks to our experience we can provide the right solution.
"In public sector projects maintaining and managing specifications and standards for design and building is critical and we look at ourselves to set the standards, so Local Authorities know they are in safe hands."
It's a philosophy that comes through in the company's new Fireshel 30-minute fire-resistant door. Launched last year, the Fireshel is the perfect solution for Local Authorities who need fully EN tested 3rd Party Accredited, replacement Fire Door sets, that are compliant with the latest 2020 MHCLG Annex A recommendations.
"The Fireshel system has been designed and tested to meet the highest standards to ensure that it exceeds current safety regulations," said Howard. "This allows peace of mind when specifying a Fire Door solution for any local authority or housing association replacement project."
Shelforce are highly accredited and ensure that all windows and doors are rigorously tested and surpass the standards of PAS 24. They also work closely with both landlords and tenants if required to ensure that everyone is satisfied with all work undertaken.
Experience & understanding in delivering local authority building projects on time & within budget
Shelforce's experience in delivering Local Authority projects means that they understand the pressures Local Authorities are under to complete maintenance and refurbishment programmes on time and within budget.
They also understand Local Authorities also want to provide the best service for their department and their tenants, but they want quality at a fair price.
Howard said: "The Local Authority market is perfect for us as we can save them money thanks to our quality, quick lead times, delivery and price. They also need to deliver more for less, and this money saved can then go straight back into the Local Authority to be reinvested elsewhere."
Social values in line with local councils
Shelforce also leads the way in inclusivity when it comes to training and employment opportunities in the glazing industry, employing some of the city's most vulnerable people, with 75% of its workforce disabled.
Sustainability is also a big consideration, and the company uses new profiles made from recycled material from unwanted PVC-U frames thanks to Eurocell's very own recycling plant.
Together these values also help make Shelforce an attractive proposition for Local Authorities, said Howard.
"Diversity and inclusion and delivering real change for people and communities are values that line up with those of Local Authorities."
It's no wonder Shelforce is set to appear on ITV4's new series of Made In Britain in the Spring – and no surprise that Local Authorities work side-by-side with them.
To find out more about how a partnership with Shelforce would boost your local authority building project, call Shelforce on 0121 603 5262 or visit www.shelforce.com.