The number 13 is renowned for being an unlucky omen, but 13 years on since the Decent Homes Standard was revised, many believe a review of social housing standards is long overdue. The question is, how will this affect the way windows are manufactured in the UK?
What is the Decent Homes Standard?
The Decent Home Standard is a technical standard for public housing, first introduced in 1997 when estimates revealed that there were 2.2 million non-decent homes in the UK. Revised in 2006 to reflect the Housing Act 2004 Housing Health and Safety Rating System (HHSRS), the definition of a 'decent home' is:
It is free from serious hazards, set out in the HHSRS
It is in a reasonable state of repair
It has reasonably modern facilities and services
It must provide a reasonable degree of thermal comfort (efficient heating and insulation)
A property could fail the Decent Homes Standard if, for example, poorly constructed/fitted/in disrepair/inadequate locks on windows and doors fail to secure the home against unauthorised entry and maintain its safety. Although, some hazards can be remedied fairly easily and economically, for example, fitting a safety catch on a dangerous window can make it safe relatively quickly.
There are 29 categories of hazard, which are set out in the HHSRS Guidance.
What does the future hold for window manufacturing?
The Decent Homes Standard expected 95% of social landlords to ensure all homes were decent by 2010, however, problems surrounding tenants taking enforcement action against local authorities was bought to the forefront by the Grenfell Tower tragedy in 2017. So, what should window manufacturers be considering with regards to a new Decent Home Standard on the cards?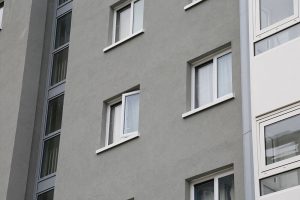 Clarity will be needed on window component lifecycles, in relation to design, construction, operation and disposal.
It's been discussed whether the thermal performance of social homes should be upgraded to at least Energy Performance Certificate (EPC) Band C by 2030, to fall in line with the Clean Growth Strategy.
Another potential change to the Decent Homes standard could see specific materials banned from use in the construction of social housing. Window manufacturers may have to adapt to a more effective method of product testing to meet new standards.
Everyone deserves a decent home
Things are moving in the right direction towards driving up standards in existing properties, what with the Homes (Fitness for Human Habitation) Act 2018 coming into force this year –  empowering tenants to take action against their landlords, in cases where landlords fail to adequately maintain their properties.
With 4 million households living in social housing across the UK, rising year on year, it will be interesting to see how our competitors adapt to a new Decent Homes Standard. Always planning for change, the Shelforce Team welcome anything that aims to improve the quality of social housing in this country.
Related to this post: Shelforce boss backs leaders pledge to make people proud of social housing