Shelforce has been making sure its disabled employees have been as protected as they possibly can during their return to work after the COVID-19 lockdown.
We employ some of the city's most vulnerable people, with 75% of our workforce disabled, and the COVID-19 pandemic has been particularly hard on those who rely on their daily work at our factory in Erdington.
But we have been tackling the challenge head-on to ensure the team is in a safe environment as we slowly get back to full capacity.
Shelforce; Working safely during coronavirus (COVID-19)
Safe working practices have been introduced in the factory to help with social distancing, as well as reduced operating hours for staff. And the most vulnerable are being allowed to start and leave earlier so they will not be on public transport at rush hour. They are also finishing earlier on a Friday.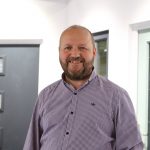 Shelforce's Business Manager Howard Trotter explained: "The lockdown has been hugely challenging for us all, but it has impacted disabled people even more. We have staff who are autistic, deaf, visually impaired, and suffer from cerebral palsy, and Shelforce plays such a huge role in their lives that it was tough for them when they couldn't do the job they love.
"It was very important to keep in touch with them as much as we could during lockdown and to have everything in place so they could work safely. As they can't drive, they rely heavily on public transport so we have tried to minimise any risk as much as we can so they can get to work safely.
"It's been a challenge, but our team overcome bigger obstacles every day than many of us will face in a year and that toughness and a determination has allowed them to hit the ground running since they have come back."
Secure and compliant windows and doors, built to last
Specialising in providing high-quality PVCu and aluminium products to local authority building projects, Shelforce is Birmingham City Council's chosen manufacturer of choice. Earlier this year the company launched its new fully compliant Fireshel 30-minure fire, smoke, and security resistant door.
For more information call Shelforce on 0121 603 5262.
Related topics:
Supported employment for adults with learning disabilities from Shelforce
Dealing with changing routines – Tips for adults with learning disabilities