For many of us, a new year presents the ambition to find that dream position or even go for a career change. However, adults with learning disabilities still fail to access the same freedom; twice as likely to be unemployed as non-disabled people. Although the latest statistics reveal that an increase of 354,000 people with disabilities were in employment compared to the previous year, the disability employment gap remains undeniable – with 53.2% of disabled people in employment, compared to 81.8% of people without disabilities in work.
As we enter a new decade, it's time to remove the barriers that are preventing adults with learning difficulties gaining access to meaningful and fulfilling employment.
What is the Supported Employment model?
Utilised around the world, in the UK the official definition of a supported employment business model is when over 50% of a workforce have a disability. The Supported Employment model (SE) provides a framework that enables employers to offer secure, long-term paid employment to a wide spectrum of individuals with learning disabilities, impairments, and conditions.
In 2019, the government announced plans to modernise its Supported Employment Programme, which is a positive step towards developing the framework in England.
An Employers Guide to Supported Employment (2018)
What is the Work and Health Programme?
The Work and Health Programme (WHP) was commissioned in 2017 and was designed to mainly improve employment outcomes for people with disabilities and health conditions. So far, government statistics show that the majority of individuals referred (74%) and starts (73%) came from the Disability group. However, Ken Butler, welfare rights and policy adviser for Disability Rights UK, voiced his concerns about the scheme last year, saying:
"Given that the WHP is only accessible by three groups of claimants – the 'disability group', the 'long-term unemployed group' and the 'early access group' – it would seem daft for the DWP not to monitor how many from each group achieve job outcomes.
"How else will it be able to see how well the WHP is performing for any or all of these groups?"
The next release on the WHP will be available in February 2020.
Positive steps being taken by employers in 2020
It's not all doom and gloom though, with a selection of British employers working hard to expand the horizons of adults with learning disabilities via supported employment training initiatives. These include:

Watches2U, the largest independent online watch shop in the UK, has recently partnered with Carshalton College to offer a supported internship programme to help South London adults with learning difficulties into employment.
The College of Haringey, Enfield and North East London (CONEL) have partnered with Tottenham Hotspur Foundation, North Middlesex University Hospital NHS Trust and Haringey Council to offer young adults with learning difficulties valuable work experience. At the end of the year-long supported internship, there are opportunities to apply for a full-time job at the hospital, with any unsuccessful applicants supported by Tottenham Hotspur Foundation in finding alternative employment.
Wirral Met supported internships are building more and more young adults' confidence in the world of work.
More than 60% of the interns at Scotland's Wishaw General Hospital have graduated into full-time employment.
How can employers make the recruitment process more inclusive for adults with learning disabilities?
With less than half of UK employers fully understanding what it takes to make reasonable adjustments for disabled employees, now is a better time than any to review company initiatives to build a more inclusive work environment. Any costs needed to make reasonable adjustments are often low, whilst the perks of recruiting adults with learning difficulties are plentiful. So, ask yourself; are you using any of these tactics in your hiring process?
Stigma reducing, disability awareness training
All employees will benefit from understanding the challenges that colleagues may face, especially supervisors and managers. Understanding each one of our employee's unique strengths and limitations will go a long way.
Concentrate on ability
We understand better than most that many people with learning disabilities meet and exceed the qualifications of any of the 'top' applicants out there. This is why we focus on what an individual can do, rather than what they can't.
Eliminate hiring processes that support unconscious bias
Reasonable accommodations in finding new talent are key e.g. changing the interview process to different evaluation methods that support equal opportunities for those with learning difficulties.
A flexible approach
e.g. hours, shift patterns, breaks, equipment or the physical environment.
Access to additional support
Show that you care by investing in your employees and develop upon their individual strengths e.g. training courses.
Mentoring schemes
Mentoring schemes contribute to a highly skilled and engaged workforce.
A mutually supportive atmosphere
Creating a clear strategy that supports employees to be open and honest with each other, without the fear of being treated differently, will assist in heightening your team's morale and productivity.
An employer's guide to hiring disabled people (2019)
A stepping-stone into employment for adults with learning disabilities in Birmingham since 1839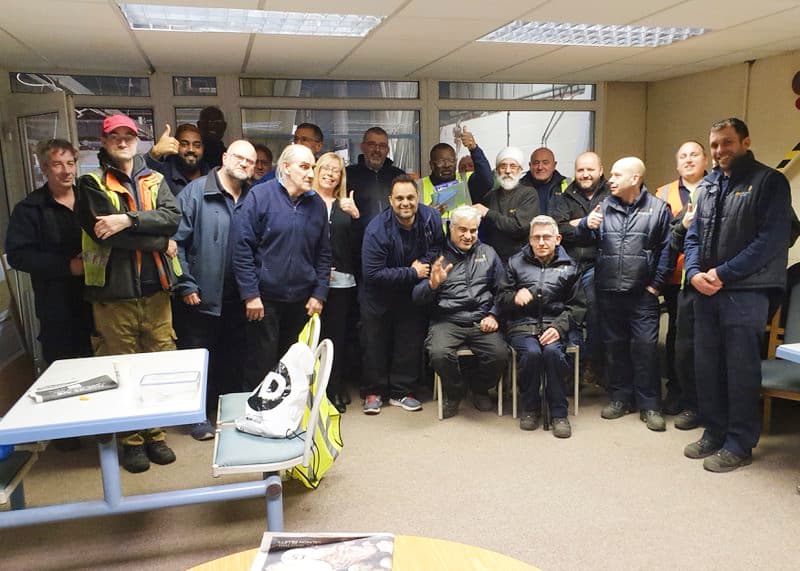 Paul is a Production Operative and has cerebral palsy. He has worked at Shelforce for 33 years and has moved from the office to the shop floor.
"Shelforce means a lot to me and I have learned a great deal and made a lot of friends," said Paul. "Before, I felt unsure of myself and lacked confidence, motivation, and direction but Shelforce has made me feel valued and appreciated. We are a team that all have different abilities and with patience and the willingness to understand each other and our differences, we have developed into a winning team that serves the community."
As we enter a new decade, we truly hope that 2020 will present a new era for adults with learning difficulties gaining access to employment. So, if you or someone you know is looking for a worthwhile opportunity to create a career within a company that embraces disability and diversity in the workplace, contact the Shelforce team today.
Related to this topic:
Shelforce; officially the 'Heart of the Industry'
Shelforce manager flies the flag for inclusivity at major conference