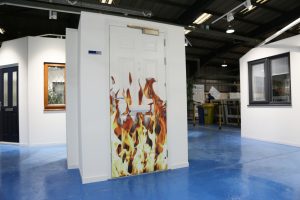 A fire door functions like any other door in normal service. But in a fire, it takes on a critical role – to save lives and protect property.
However, when they are in regular use, they can easily become damaged, which may affect their performance in the event of a fire.
Having appropriately accredited, correctly installed, and suitably maintained fire doors is essential in any residential property to ensure they are fit for purpose, should the worst happen.
Window and door manufacturer Shelforce provides high-quality products to local building authority refurbishment and maintenance projects around the country, including working closely with Birmingham City Council (BCC).
Earlier this year Shelforce completed the supply and installation of 210 of its recently launched Fireshel fire doors in three blocks of flats that support retirement and sheltered housing in Birmingham.
High-quality fire doors for local authority building refurbishment projects
The fully compliant 30-minute fire and smoke resistant door is the perfect solution for local authorities who need fully EN-tested 3rd Party Accredited, replacement Fire Door sets, that are compliant and meet with the latest 2020 MHCLG Annex A recommendations.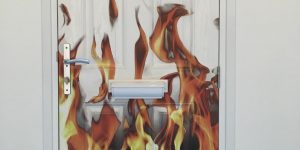 All Fireshel fire doors have been fire and smoke tested from both the inside and outside and PAS 24 Security tested. The door set complete with fanlight glazing panel achieved 49 minutes fire resistance when EN 1634-1 tested allowing peace of mind when specifying a Fire Door solution for any local authority or housing association replacement project.
Shelforce's Business Manager, Howard Trotter, said: "Local Authorities have a responsibility to make sure all fire doors in their building projects meet the highest standards.
"Fire doors are not ordinary doors; they are a carefully engineered fire safety product and are critical to the fire safety of a building by holding back the spread of fire and smoke for a designated period, giving time for occupants to escape.
"The Fireshel system, along with the components used, has been designed and tested to meet the highest standards to ensure that it exceeds current safety regulations."
The correct fire door and installation is only the start, Local Authorities also have a responsibility to get them inspected and properly maintained on a regular basis, failure to do this potentially risks the fire integrity of the doorset.
To help, Shelforce is offering a comprehensive fire door package with its Fireshel system, ranging from fabrication through to installation, maintenance, and repair.
Howard explained: "Having worked on a huge number of Local Authority projects, we understand the challenges they face, and we want to make things as easy as possible for them and save them money in the process.
"Maintenance covers all parts of the door and frame assembly, and by not checking all the required elements thoroughly and within appropriate timescales could put lives at risk.
"Maintaining your fire doors regularly is essential so they will offer maximum protection and perform as they should in the event of a fire."
To make sure your Local Authority project has the best solution for fire doors, call Shelforce on 0121 603 5262 or visit www.shelforce.com.