Fire remains the number one risk to tenant safety. In the event of a fire getting out of control and smoke spreading rapidly, escape can be difficult and time-consuming, if not impossible.
Landlords have a fire safety duty of care towards tenants and visitors to the premises and local authorities and housing associations, the biggest providers of rental property in the UK, must be aware of risk assessments and fire-related regulations and ensure they are adhered to.
Fire doors play a vital role in fire safety and protecting people on the premises from smoke and fire by providing escape routes and protecting escape routes, such as stairwells, from fire and smoke and landlords in the UK must also be aware of fire door regulations.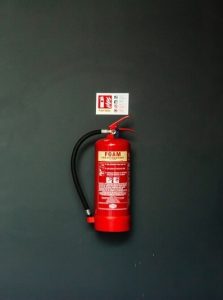 What are the fire safety regulations for landlords?
Fire safety regulations for landlords are designed to protect tenants from fire-related hazards. They cover a wide range of properties, from multi-occupancy dwellings such as hotels, guesthouses and nursing homes, to residential properties with a basement or ground floor level such as houses in multiple occupation (HMOs), residential dwellings for students and sheltered housing complexes, among others. The fire safety requirements of a tenant vary depending on the type of tenancy.
As set out in the regulatory reform (fire safety) order 2005, it's a legal requirement for building operators in England and Wales to appoint a responsible person to manage all their fire safety precautions and one of the key responsibilities of the responsible person is to take any action to reduce the risk of fire spreading within the premises.
Over the years, successive UK governments have introduced laws specifically related to fire risk, fire protection and rental properties, and some of the key areas to help with fire safety on the premises include:
At least one working smoke alarm on each floor of a rental property.
A smoke alarm on each storey with living accommodation (HMOs).
Making sure any furniture and furnishings supplied are fire safe.
Making sure there is always access to escape routes on the premises.
Checking appliances have had an annual PAT (Portable appliance test).
These fire safety regulations require UK landlords to install fire door systems in certain properties, such as rental units and residential properties. Fire doors are an integral part of a building's passive fire protection system and are designed to contain a fire in one part of the building to limit damage and protect escape routes such as stairwells, so everyone can leave the building safely. They should be one of the first elements considered when you undertake a fire risk assessment. The fire door required in your building will be determined by the fire risk assessment, an in-depth review of the premises. The responsible person should ensure an up-to-date fire risk assessment has been carried out. A thorough fire risk assessment saves lives, and it is your legal duty to get one carried out. Fire doors must be installed in the right areas of the premises to offer maximum protection and meet compliance requirements. As every firefighter knows, fire doors play a very important role in fire safety in the event of a fire by stopping the spread of fire and keeping flames and smoke at bay, giving anyone in the building a fighting chance of getting out unscathed. Yet under current UK regulations, only HMOs are required to have fire doors in all areas that lead to an escape route, usually in hallways or other communal spaces. These doors must be fire resistant and be able to close automatically. Other types of rented property – houses, for example – do not require the installation of fire doors, except in parts of England where a selective licensing scheme run by the local authority is in force.
That said, many landlords are installing fire doors in buy-to-lets and other non-HMO properties. This is a good idea; not only will it give extra protection to your tenants, but it also gives an extra layer of security to your property. So, whether you're a landlord or a letting agent, here are a few pointers to investing in high-quality fire doors for all types of properties: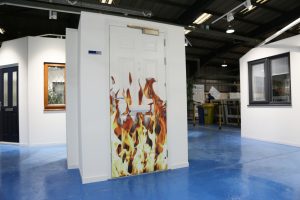 What are the key considerations for letting agents with regards to fire doors?
First, and most importantly, make sure that you're buying and installing a fire door that actually does the job it promises. Whatever material it is manufactured from – timber, glass or steel – the fire door will have been assigned an 'FD' rating associated with the length of time the door can withstand fire. So, an FD rating of 30 means 30 minutes of fire resistance, while an FD60 will provide fire resistance for an hour and it must be built with fire-resistant hinges, an automatic door closer, and intumescent seals (sometimes combined with smoke seals) around the door and have matching fire door handles.
Next, make sure that all key identification markers that denote a fire door are in place. Gaps at the top and down the sides of the door shouldn't be more than 4mm, and there must be a thin intumescent strip down the door frame that will expand when heated, thus sealing the gap between the fire door and frame. The fire door should close by itself from a halfway open position and must not stick.
There is no question that a fire door should be fitted by a qualified fitter with experience in fire door installation, and it's a good idea to place a sticker on the door telling everyone that it is a fire door.
The maintenance of fire doors is also important and once installed it's vital that the fire door be maintained according to fire door regulations and regularly inspected. To ensure the proper safety of the public, building regulations around fire door use are always changing. Non-domestic properties, for example, must follow the 2005 regulatory reform (fire safety order) and these rules state that all fire doors must be checked at least every six months. It is a legal requirement and failure to do so may invalidate the property's insurance policy – or worse. It is also important to make tenants aware of the safety features of fire doors, including being closed at all times and never propped open, and for them to report any damage to the door, however slight.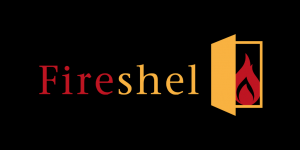 Fully compliant fire doors from Shelforce
Shelforce supplies both residential and light commercial composite fire doors that are fully tested to stop the spread of fire and are wholly compliant with the latest fire door regulations. For the specification of fire doors, fire safety and fire door regulations, we supply both FD30 and FD60 models of our Fireshel made from high-quality, burglar-resistant composite materials, with quality fire resistant fire door hinges and matching fire door handles, and there is the option of having either solid doors or ones with compliant fanlight glazing panels. Both internal and external options are available, and all our fire doors are guaranteed for 10 years.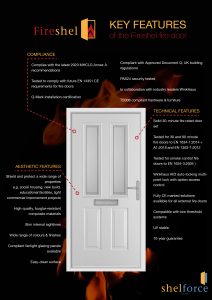 Why use our Fireshel fire door
Our fire doors meet the EN 1634-1:2014 + A1:2018 and EN 1363-1:2012 criteria.
Our fire doors are tested for smoke control fire doors to EN 1634-3:2004.
Tested to comply with future EN 14351 CE requirements for fire doors.
Q-Mark installation certification.
Our fire doors are PAS24 security tested.
Our fire door is compliant with Approved Document Q; UK building regulations.
Winkhaus AV2 auto-locking multi-point lock with optional access control.
TS008 compliant hardware & furniture.
Quality fire door hinges and matching fire door handles.
Our fire doors are available in a wide range of colours & finishes.
Our fire doors are compatible with low-threshold systems.
UV stable.
Q Mark 170 Scheme accredited third party.
We are a first-choice manufacturer and supplier of fire doors in the UK.
Expert fire door advice from Shelforce
For fire safety, it is a legal requirement for landlords to make sure their properties are compliant with fire regulations, and while such regulations vary according to property type, it is worth considering going the extra mile for a little more peace of mind. Fire doors are an essential part of fire safety and fire protection and are designed to stop the spread of fire and smoke in a building for long periods. Fire door regulations must be adhered to. Local authorities in the UK are equipped to deal with specific enquiries around regulation and regulatory reform, and we're always here to help with practical, expert advice and support when it comes to fire doors and fire door regulations for fire safety.