With the UK having to build hundreds of thousands of new homes are traditional methods of construction the best way to have a chance of hitting those targets? Using bricks and mortar has been the go-to method for centuries, but contractors and housebuilders are starting to look at the advantages modular housing can bring.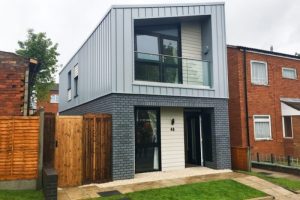 What is a modular home?
Modular housing is a modern method of construction (MMC), but while modular and offsite manufacturing are thought of as new terms, prefabricated homes, or prefabs, are more than 80 years old in the UK, many having been built in the country in the 1940s after the Second World War.
A prefabricated home is very similar to a modular home. A prefabricated building or component is manufactured in a factory before being put together on site while modular homes are built offsite in self-contained units, or 'modules' before being transported to a site on a flatbed lorry and assembled like building blocks, with an appearance like a shipping container, on top of a foundation. Each module houses one or more rooms.
Modular housing and modular design have been popular in Europe, but they are now being produced more and more in the UK – and there are many reasons why modular housing is making a comeback in Birmingham and the West Midlands.
Cheaper housing
Finding cheaper ways to build housing for the population of Birmingham is something we need to do, and modular housing is cheaper than traditional methods.
Modular house prices are significantly lower and provide better value. They also cost less to heat than the average UK home and traditional new builds, which means savings on energy bills and making them a cost-effective alternative which will be cheaper for first time buyers in Birmingham.
Quicker build time
Modular housing also allows for a much quicker build time for several reasons. Having to lay bricks one on top of the other is hugely time-consuming, while bad weather can impact whether bricks can be laid at all.
As modular homes are made in factory conditions, they are not reliant on the weather, meaning you don't lose time due to the elements, making build times shorter. Fewer variables impact the development of modular housing making it a quick alternative to traditional. Factory conditions also provide consistency of production, with everything built to precision
Less labour intensive
While the build time will be cheaper, the overall build programme will be cheaper too. Modular housing uses much less labour to produce, saving a big cost on having to pay bricklayers per day.
With the skills shortage in the construction industry a constant problem, with fewer young people coming through in trades such as bricklaying, modular homes are the perfect solution.
More Sustainable
Modular homes are much more eco-friendly and greener, both in pre-and post-production, using less energy to construct and maintain. The controlled environment makes production extremely efficient, drastically reducing waste on-site and the energy needed to produce bricks.
It also means fewer deliveries to the site, reducing traffic emissions greatly as delivering modules to the site will mean just one or two lorries, unlike multiple deliveries from lorries with materials such as bricks, sand and cement.
A better build
Modular design has more freedom than prefab construction and as structures are built offsite with factory precision, manufacturers, designers and contractors can ensure the success of the project. Modular housing is more stable and durable and can withstand more harsh weather from the elements for longevity.
Windows and doors for modular homes
Shelforce is Birmingham City Council's manufacturer and supplier of choice for the manufacture and supply of uPVC and aluminium windows and doors. We played a part in Birmingham's first modular home, manufacturing all the aluminium windows for Birmingham City Council's first-ever modular home, which was unveiled in Hockley, Birmingham. Since then, we have worked with several modular housing companies.
Our aluminium and uPVC windows and doors are ideal for modular homes, while our experience in making sure we supply our high-quality products on time is perfect for the modular sector.
Does your modular project need the right windows and doors?
At Shelforce we understand that modular housing is vital in helping the UK and Birmingham hit housing targets. If you are looking for an experienced window or door supplier for your modular project, contact our team to discuss your requirements.