A fire door is a critical safety device which can help save lives and protect property in the event of a fire. If a fire door is not installed properly, however, then it won't do its job.
In fact, the installation of a fire door is as crucial as the manufacture of the door and the product specification itself and for it to provide vital protection and perform as intended it needs to be installed correctly with compatible components.
If not, then it invalidates certification and will not provide adequate protection for occupants or the building. In this blog, we will cover the installation of fire doors, and what should be done to maintain them.
A job for the experts
Fire door installation is a job for experts. Any mistakes during installation, such as gaps between the door, frame or seal, could have devasting consequences in the event of a fire and allow flames and smoke to escape.
Fire door installation should only be carried out by someone who is fully trained and competent to do so. If a fire door is FD30 fire rated to be fire resistant up to a minimum of 30 minutes, or an hour for an FD60 rated fire door, if they are badly installed then they will not withstand a fire for the length of time that they should – and not offer the protection they are supposed to.
BM Trada Q-Mark Fire Door Scheme and Firas are leading UK fire door schemes for installers and choosing an installer from such a scheme will provide reassurance that the fire door will be installed in accordance with the strict guidelines of the fire doorset manufacturer.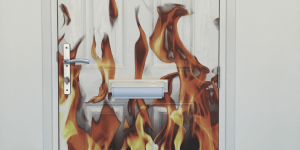 Fire Door Installation
There are several factors to keep in mind which can greatly impact the safety of others in case of fire.
All fire third party certificated fire doors should be supplied with installation instructions that are specific to the product and these must be adhered to, while the specification should be correct for the door's fire rating.
Essential Ironmongery like locks, latches, closers and hinges must be CE marked, and the certificate must be checked to make sure only compatible ironmongery and intumescent seals are being used.
The gap between the door and frame should be 2-4 mm and the threshold gap as per the manufacturer's instructions, any voids between the door frame and the wall must be tightly packed with mineral wool and the closer should shut the door onto the latch from any position.
Maintenance and Repair
A fire door cannot be left for good, expected to perform correctly once it's been properly installed.
After the door has been installed, the latest Government advice suggests that it will be a legal requirement for all new fire doors to be routinely inspected and maintained regularly by a suitably qualified professional to ensure it functions correctly. This includes checking hinges for wear and replacing broken hinges on time. Additionally, you must inspect door seals regularly and replace them as needed.
Article 17 of the Regulatory Reform (Fire Safety) Order 2005 (RRO/FSO) makes it a legal requirement to ensure that fire doors and escape doors are not only correctly installed but also adequately maintained for them to perform how they should.
There are no set rules on how often fire doors must be replaced, however just like other doors, they can get damaged over time through wear and tear. In terms of maintenance, the BWF Fire Door Alliance suggests a fire door should be inspected once every six months.
Fully compliant fire doors from Shelforce
Shelforce supplies both residential and light commercial composite fire doors that are fully tested and wholly compliant with the latest regulations. We supply both FD30 and FD60 models of our Fireshel made from high-quality, burglar-resistant composite materials, and there is the option of having either solid doors or ones with compliant fanlight glazing panels. Both internal and external options are available, and all our products are guaranteed for 10 years.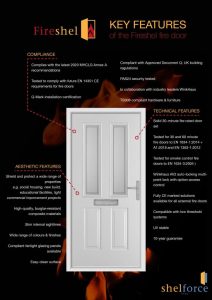 Fire door inspection, maintenance and repair
Shelforce manufactures and supplies its fully compliant and secure Fireshel fire door to Local Authorities and offers a comprehensive fire door package with its Fireshel system, ranging from fabrication to installation, maintenance, and emergency repairs to make it easy for them and provide peace of mind that not only will the doors perform correctly and in line with every piece of legislation, but they will be inspected, maintained, and repaired in the future too.
Expert fire door advice from Shelforce
When it comes to fire door installation, it is so important to work with qualified door installers who are familiar with fire door specifications and have been specifically trained to install fire doors.
We know what you need when it comes to fire door safety and have the answers to questions about the correct manufacturing and installation of fire, smoke and security-resistant doors. We are happy to help!