As Fire Door Safety Week 2018 is now upon us (24th-30th September), providers and residents are understandably edgy considering five doors from five different fire door suppliers have now failed British performance tests. In turn, this is causing real issues for social landlords and housing associations in finding replacement fire doors, as they face supply chain issues.
Fire Door Guidance Update
In response to the Grenfell Tower fire and subsequent failed fire door tests, the Government has updated its advice for anyone responsible for the fire safety of residential flats that are concerned about the fire and smoke resistance performance of flat entrance front doors.
Government Building Safety Programme – advice for building owners on assurance and replacing of flat entrance fire doors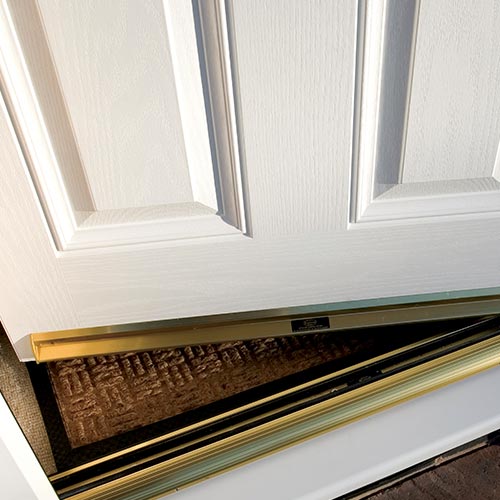 How long should a FD30 fire door withstand fire?
Rated on how long the door panel can withstand flames and smoke, FD30 fire doors are tested by placing the door in a furnace for 30 minutes and measuring whether it's adequately resistant. Appropriate in most cases, FD30 fire doors are around 44mm thick; around 10cm thicker than the average door. Are your fire doors fit for purpose?
How can I maintain my fire doors?
Damaged, faulty or misused fire doors are one of the most common breaches of fire safety regulations. For example, if a fire door is propped open it virtually renders it obsolete as the compartmentalisation has been compromised, which in-turn fails to restrict the spread of fire throughout the building. Therefore, building owners and landlords should regularly inspect fire doors to ensure they're functioning correctly, in the same way, that smoke alarms and fire extinguishers are routinely checked. The main areas of the fire door that should be scrutinized are:
Door leaf
Door frame
Intumescent/Smoke/Acoustic Seals
Hinges
Door closers
Hold open devices
Locks and latches
Glazing and glass
Threshold gap
The label
By checking on fire doors at least every 6 months, or more frequently depending on the amount of traffic the door experiences, this is an effective way to keep residents safe whilst preserving the condition of fire doors for as long as possible. But if you're still unsure, then a qualified FDIS Certified Inspector will be happy to assist.
Related to this post: Are your fire doors fit for purpose?
Invest in FD30 fire doors that are built to last
Shelforce provide local authorities, housing associations, landlords and schools with high quality FD30 fire doors that offer the ideal combination of safety performance, aesthetics and budget. So, this year we urge you to support Fire Door Safety Week by assessing and renewing inadequate fire doors within residential and commercial buildings. Get in touch for further information on this poignant issue.