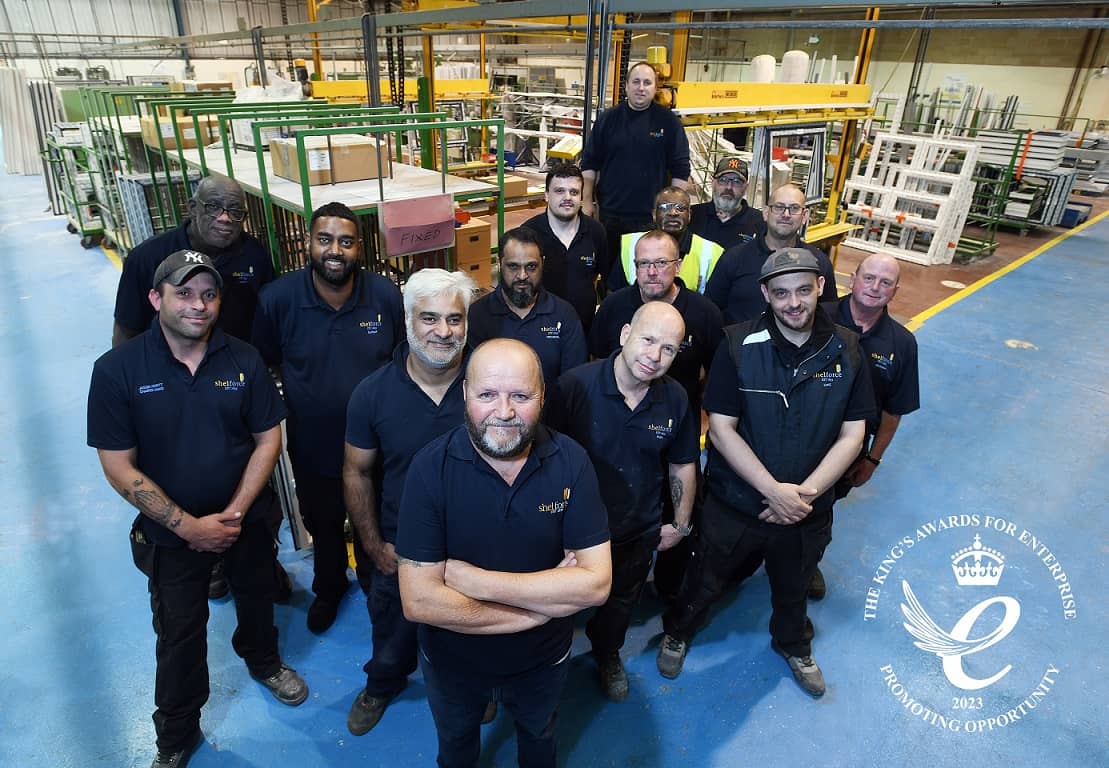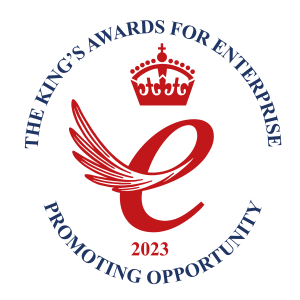 Shelforce has been recognised with the highest official UK award for British business, The King's Award for Enterprise in Promoting Opportunity (through social mobility) – and for the  Birmingham-based window and door manufacturer Shelforce it tops a fantastic three years. 
The company, which specialises in providing high-quality PVCu products and Fire doors to local authority building projects, has won an avalanche of awards since 2021, including being crowned the 2021 Greater Birmingham Chambers of Commerce (GBCC) Business of the Year, and winning Excellence for People Development at the same event. 
It was also chosen to feature on ITV's Made In Britain in the same year to showcase its production processes and its inclusive employment model. 
But receiving the King's Award for Enterprise is the biggest honour yet. Established in 1965, the awards have propelled UK businesses onto the world stage with an internationally renowned symbol of excellence. Previously named The Queen's Award for Enterprise, His Majesty The King has approved the Prime Minister's recommendation that Shelforce be recognised. 
A delighted Howard Trotter, Shelforce's Business Manager, said: "It is an unbelievable honour to receive the King's Award for Enterprise in the Promoting Opportunity category. To be recognised by the highest honour in UK business, renowned across the world is an incredibly proud moment for Shelforce. 
"There have been less than 7000 businesses recognised since it was first awarded in 1966, so for Shelforce to join that exclusive list is unbelievable. The worldwide recognition also increases our visibility as an exemplary UK business that is setting the standards for promoting opportunity in both the fenestration industry and beyond." 
Promoting opportunities for disabled workers 
Shelforce employs some of the city's most vulnerable people and out of its 30 staff, 75% have a disability. The King's Award recognised the firm's social mobility programmes that help people from disadvantaged backgrounds into successful working lives. 
The company has given disadvantaged people, many of whom couldn't get work due to their disability, the confidence to work and contribute to a successful company in a professional industry and provided them with financial independence and a career/future. 
"Promoting opportunity is the reason behind Shelforce's continued success and this is fantastic recognition for our incredible team and the processes we have in place," said Howard. "Our dedication to providing a place where people with a mental or physical disability can thrive in employment and produce high-quality products in a competitive market has allowed us to continue to grow the business every year. 
A royal appointment  
Howard will represent Shelforce as a VIP guest at a royal reception hosted by The King at Buckingham Palace to celebrate the winners of the King's Awards for Enterprise 2023. 
"It will be a huge privilege to attend Buckingham Palace, especially to celebrate with our fellow winners of the King's Awards 2023," said Howard. "We are even more honoured that we have been recognised in the first ever King's Award for Enterprise and in the year of the King's coronation too." 
The award also comes some 40 years on from The Princess Royal, HRH Princess Anne officially opening its current factory in Erdington in 1984 and Howard added: "We have the picture of that day up in our office and you could say Shelforce has got the royal seal of approval again, 40 years on!" 
Outstanding recognition 
Founded in 1839 to provide work opportunities for people with disabilities, the royal recognition is even more special for Shelforce as just nine years ago it was faced with a stark choice to either become self-sustaining or close. 
Howard had to keep the news under wraps for almost a month, but telling his whole team is something he'll never forget. 
"They were absolutely buzzing and that's what it's all about. It means so much to them to wear the Shelforce shirt and, as with every award, it gives them even more confidence of the job they are all doing," said Howard. "Getting royal recognition, however, tops the lot and it is well deserved for everyone as they are a fantastic team and, as I said, crucial to our success." 
Howard also hopes the award will also help shine a positive light on the fenestration industry and he added: "The industry has a certain perception in the general public's eyes and can sometimes take a bit of a hammering. Hopefully, this award shows that image is not always the case and will change that." 
As featured on BBC Midlands Online
For all press enquiries, please contact: 
Stephanie Massie, PR Manager, Purplex Marketing 
stephanie.massie@ascotgroup.co.uk
07931 522 989