For more than two years we have been manufacturing and supplying thousands of fire doors to housing and Local Authority projects in Birmingham. And with almost 35,000 fire doors still to replace in domestic buildings, and blocks of flats in the city, there is a long way to go.
To many residents and tenants in these properties, and anyone who has a fire door in their building, fire doors are not given a second thought during everyday life. But they should be. Fire doors are a legal requirement for flats which open onto communal areas shared with other premises.
Fire doors are not ordinary doors; they are carefully engineered fire safety devices and are critical to the fire safety of a building and can be the difference between life and death.
In the event of a fire, it is a legal requirement for fire doors to perform in the way they are meant to save lives and tenants and residents must be aware of the things you must never do to a fire door as these will make the fire door less effective and unfit for purpose.
Never wedge a fire door open
Never block a fire door
Never lock a fire door
Never fix a fire door yourself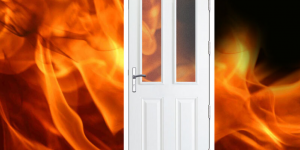 DO NOT leave a fire door wedged open
The importance of  losing a fire door is paramount and you should never leave a fire door open or wedged open under any circumstance. In fact, it is illegal to prop a fire door open for any reason. All fire doors are fitted with an automatic self-closing device
An open fire door won't do its job and prevent the spread of fire or smoke from entering other parts of the building, potentially leading to a loss of life caused by fire spreading. A wedged fire door can be deemed as knowingly putting life at risk, and those persons responsible could be prosecuted, while they can also mean insurance policies can be invalid.
DO NOT block a fire door
You should never allow a fire door to be blocked with an obstruction. While a fire door is designed and manufactured to help prevent the spread of fire and smoke inside a building, it is also a vital escape route.
In the event of a fire, if that access point, or the corridor leading to it, is blocked or obstructed in any way, then occupants may not be able to get to the fire door and to safety. Both must always remain clear on all premises.
DO NOT lock a fire door
For the same reasons as above, a fire door must never be locked as it must be able to be opened immediately and safely by any person that requires to use it in an emergency.
DO NOT fix a fire door yourself
If you see a fire door that you suspect needs fixing then never try and do the job yourself. Every part of a fire door is manufactured and tested to make sure it does its job in the event of a fire and regular inspections are a legal requirement.
A fire door must always be in a good condition and this is why fire door maintenance, and fixing fire doors should be done by a professional, just like when installing a fire door itself, whether the frame needs fixing or door hardware such as handles, and hinges need to be replaced to make sure it is closing properly.
Fully compliant fire door from Shelforce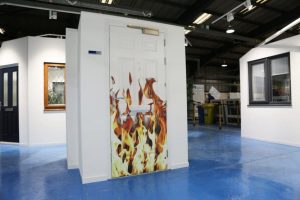 Working alongside industry leaders Winkhaus, our Fireshell dual fire, smoke and security-compliant composite fire door, which incorporates the Winkhaus high-performance fire door frame FireFrame®, has been tested for an fd fire rating for 30 and 60-minutes.
Why use our Fireshel
Our fire doors meet the EN 1634-1:2014 + A1:2018 and EN 1363-1:2012 criteria
Tested for smoke control fire doors to EN 1634-3:2004
Tested to comply with future EN 14351 CE requirements for fire doors
Q-Mark installation certification
PAS24 security tested
Compliant with Approved Document Q; UK building regulations
Winkhaus AV2 auto-locking multi-point lock with optional access control
TS008 compliant hardware & furniture
Quality fire door hinges and matching fire door handles
High-performance insulating materials
Wide range of colours & finishes
Compatible with low threshold systems
UV stable
Q Mark 170 Scheme accredited third party
First choice manufacturer and supplier
For fire safety, building owners must replace any fire door that fails to meet current fire or smoke resistance testing on their premises and follow up with routine inspections to be regularly maintained.
We know what you need when it comes to fire door safety and have the answers to questions about the correct manufacturing and installation of fire, smoke and security-resistant doors. It's no wonder we are Birmingham City Council's manufacturer and supplier of choice.
If you are looking for an experienced internal and external fd 30 and 60 fire door manufacturer in the UK then contact the Shelforce team today to discuss your fire door requirements. We are happy to help!